We sat down to talk with Donna Stachowiak, who was recently named Services Manager of the Year by Visit San Antonio. Donna is the Conference Services Manager for Omni La Mansion Del Rio and Mokara Hotel & Spa. Donna is truly a master in the field of services and an asset to San Antonio's hospitality industry, but we wanted to get to know her a little better and find out more about her love for San Antonio.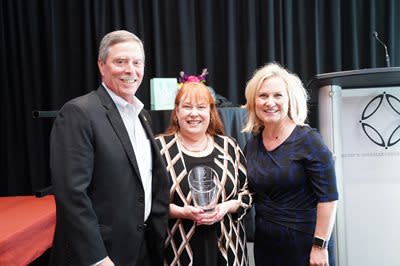 How long have you lived in San Antonio?
DS: I moved to San Antonio in 1981, so I've been here for a long time now!
Why did you move to San Antonio?
DS: I came to San Antonio to attend Trinity University (Go Tigers!), where I graduated with a Bachelor of Arts in History and Political Science. I was planning to go to law school, even though I always had the desire to work in hotel. When I was a kid, I thought that working at a hotel was glamorous and exciting due to the old television show, "Hotel."
How did you get your start in the hospitality industry?
DS: I owe my start in the hospitality industry to Trinity. I worked in the Office of Conferences and Special Programs my senior year and ended up changing my career aspirations to meeting and event planning. We held conferences on campus in the summer for groups of 50 to 2000 persons. During the Academic year we worked with Trinity faculty on special programs and ran continuing education meetings on campus. I loved planning – it simply fun and rewarding. My supervisor at Trinity, Ann Knoebel, knew that eventually I wanted to transition from university conference planning to the hotel industry, and she helped make that dream happen for me by connecting me with her industry contacts. I was fortunate to start my hotel career with Omni and I quickly learned that when you start your career with the best hotel company around, there's no need to leave!
What do you love about working for Omni La Mansion and Mokara Hotel & Spa and servicing the properties' clients?
DS: I love the history of both Omni La Mansion and the Mokara Hotel and Spa, as well as the challenge of working at two hotels. Each hotel is unique and special in its own way and I get to share that with my conference and meeting groups. It's quite rewarding to be there at the beginning of the planning stages and see an event through to a successful end. Our guests leave with wonderful memories of their time in San Antonio and their stay at our hotel. When a guest has an issue, it's gratifying to help solve their problem and make their experience better. Each day is unique in the hotel industry and that is what makes it fun. Everyone is committed to doing the best job possible.  
You have a free Saturday, where in the city would we find you?
DS: I'll be at Friendly Spot enjoying their amazing sangria, floating the Comal River, browsing antique shops and thrift shops all over San Antonio and the surrounding towns, trying new restaurants, and just spending time with my friends.
Congratulations to Donna on being named Visit San Antonio's 2019 Services Manager of the Year! San Antonio could not continue to provide a phenomenal client and attendee experience without the help of great partners like Donna.