City Welcomed 37 Million Visitors in 2017
San Antonio's hospitality industry saw significant gains in economic impact, visitor and employment numbers from 2015 to 2017, according to the results of a study released today at the Visit San Antonio Annual Meeting.
Research by Trinity University professors, Dr. Richard V. Butler and Dr. Mary E. Stefl, showed the economic impact of San Antonio's hospitality industry in 2017 was $15.2 billion, a rise of $1.6 billion from two years before.  The San Antonio metro area welcomed 37 million visitors in 2017, 7.3 million more than in 2015.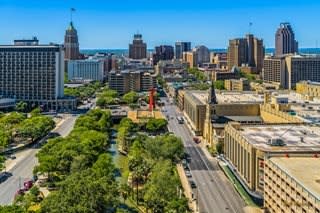 The biennial study showed that tourism and hospitality remains a vibrant and growing segment of the San Antonio landscape, generating seismic impact in revenue and fees. In 2017, $213.7 million was contributed to the City of San Antonio and $419 million was produced for all local government entities, including Bexar County and school districts, among others.
Those funds, in turn, continue to help the city support projects like San Antonio River improvements, amateur sports facilities, cultural arts and historical preservation.
"This not only provides additional attractions for visitors, but also increases the quality of life for local San Antonians," said Rusty Wallace, Area Managing Director of the Omni La Mansion Del Rio/Mokara Hotel and Spa.
"We continually evaluate the health of our industry, and results continue to show steady growth," added Wallace, board chairman for Visit San Antonio. "This reinforces the ongoing value of tourism-focused economic development in San Antonio, the creation of thousands of hospitality jobs for our citizens and the substantial contribution of tax revenues to local government."
The Trinity report showed that the hospitality industry employs 140,188 individuals, or 1 out of every 7 employed San Antonians. That's an increase of approximately 9,400 workers from 2015. The annual payroll for those employees is $3.23 billion.
"Consider that many of the amenities and attractions that so many San Antonio residents enjoy each day are available to them due to the economic impact that visitors bring to the city," said Casandra Matej, President & CEO of Visit San Antonio.
Of the 37 million annual visitors to the San Antonio metro area, 30.4 million come for leisure travel. A total of 23.1 million were overnight visitors.
The Trinity hospitality economic impact report originated 16 years ago, and is commissioned by the San Antonio Tourism Council, Visit San Antonio, San Antonio Hotel & Lodging Association and the San Antonio Restaurant Association.
"We are proud to work with our industry partners to highlight the tremendous impact this industry has on job creation and the economic stability of our city and our region," San Antonio Hotel & Lodging Association President & CEO, Liza Barratachea said.
###
Visit San Antonio is a 501(c)6, and serves as the sales and marketing arm of San Antonio as a leading leisure and meetings destination. San Antonio welcomes approximately 34 million visitors annually. Hospitality is one of the top five industries in the city, contributing nearly $14 billion into the local economy annually and employing 122,500. More information about Visit San Antonio and its initiatives for hospitality partners can be found at Partners.VisitSanAntonio.com.