First-Ever Pride Parade on the San Antonio River Walk
San Antonio, Texas (May 18, 2022) – This year's Pride Month celebration in San Antonio will offer something it never has before, a parade and festival on the famous San Antonio River Walk on June 18. The inaugural Bud Light Pride River Parade was created by Visit San Antonio to promote the city's inclusion, encouragement and support of the LGBTQ+ community to live openly with equal rights. Visitors and residents alike are invited to join as members of the community or allies as they come together at the historic La Villita district and River Walk Downtown and Museum Reaches for this colorful, entertaining yet heartfelt moment of unity.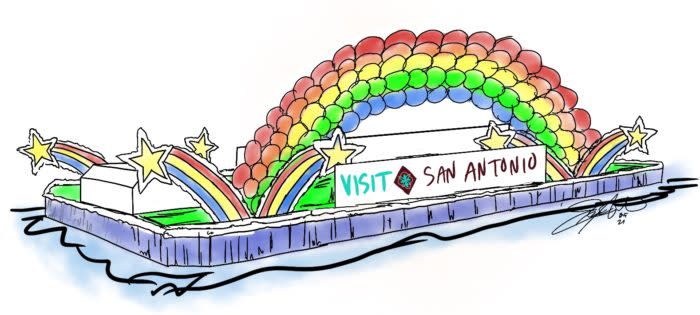 The fun starts on land with the Celebration at La Villita from noon to 5 p.m. The area will be in full Pride regalia and feature local artisans and makers, food and entertainment. At La Villita's Arneson River Theatre, visitors will enjoy an afternoon of family-friendly, live on-stage entertainment from DJs, bands, impersonators, dancers and more.
The Bud Light Pride River Parade will have two showings, each with more than 17 colorful river barges. The first on the Downtown Reach of the San Antonio River Walk will serve as the closing event for the Celebration festival at La Villita. The encore presentation, on the River Walk Museum Reach, provides an additional opportunity to be part of the community.
"San Antonio truly is a unique city thanks in large part to our welcoming and inclusive community," said Marc Anderson, President & CEO of Visit San Antonio. "As we emerge from the pandemic, Visit San Antonio sought to herald loud and proud how we welcome all. The city already boasts fantastic Pride Month celebrations in June, and we hope this Pride River Parade addition to the festivities will showcase the huge heart of the community in as many forms possible."
Saturday, June 18
Noon to 5:00 p.m. – Celebration at La Villita 4:00 p.m. to 5:00 p.m. – Pride River Parade at River Walk Downtown Reach 7:00 p.m. to 8:00 p.m. – Pride River Parade at River Walk Museum Reach
Though this will be the introductory year for these events, based on projected participation from similar San Antonio River Walk events, it is expected the Bud Light Pride River Parade will be the largest Pride Parade hosted on a river anywhere in the United States.
Learn more about the Pride River Parade and what to do in San Antonio at VisitSanAntonio.com/LGBTQ.