Elementary School Itinerary
For Students
In elementary school, students begin to learn about subjects such as English Language Arts and Reading Mathematics, Science, Social Studies, Art, and Music among others.
In San Antonio, with over 300 years of growth and authenticity, young students will find a haven to help them learn something they were taught in the classroom. We put together some ideas for you to study!
With this suggested itinerary, your elementary school student is learning, but not limited to:
The origins, similarities, and differences of American Indian groups in Texas before European exploration.
The causes and effects of European exploration and colonization of Texas.
The importance of the Texas Revolution, the Republic of Texas, and the annexation of Texas to the United States.
Force, motion, and energy and that energy exists in many forms and can be observed in cycles, patterns, and systems.
Organisms and environments and understands that living organisms within an ecosystem interact with one another and with their environment.
Earth and space and that there are recognizable patterns in the natural world and among the Sun, Earth, and Moon system.
To explore and communicate ideas drawn from life experiences about self, peers, family, school, or community and from the imagination.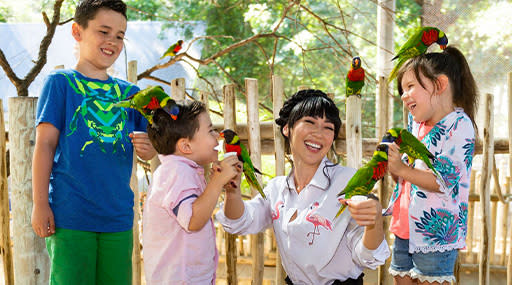 Things to Do, See, & Explore
Start the day with a great overview of the city's history and districts with a hop-on hop-off bus with CitySightSeeing San Antonio. Get on the top of the double-decker bus and take in the views as you ride through the city's historic streets and architecturally beautiful buildings.

After your great intro to the city, venture over to the Broadway Cultural Corridor, where you can visit the DoSeum, San Antonio's educational hotspot dedicated to STEM exhibits with interactive tasks that tap into your child's creativity and curiosity.

Explore the San Antonio Zoo, opened year round with over 750 animal species and many up close and personal feedings!

Pick up some history when you visit the Witte Museum to explore exhibits that tell the stories of Texas from prehistoric to present day. Be sure to check out the HEB Body Adventure, an interactive, treehouse experience that will increase your family's Health I.Q., as well as the Naylor Family Dinosaur Gallery!

After you've had a bite to eat, and there's many places to choose from, shake it off and get active. Hike, bike, kayak or walk along the Mission Reach Trail that connects the River Walk with the city's four southernmost Spanish colonial missions – Concepción, San José, San Juan and Espada.

Explore the San Antonio Missions, Texas' only UNESCO World Heritage Site. Mission San Jose is known as the Queen of the Missions, when you're there don't miss the Rose Window, in the shape of a quatrefoil. This historic design can be seen all throughout the city for its roots in Spanish Colonialism.

Lastly, you have to Remember the Alamo! Make sure to book one of their guided tours. Within one hour, you'll be able to explore the heroes and events that have made the story of the Alamo captivating for all Texans and visitors around the world.