San Antonio is a big city with a lot to offer. There are so many things to do that it can be hard to know where to start! That's why I've put together a list of the top things to do in San Antonio, so you can make the most of your visit. In this guide, you'll find the best activities in SATX and the best places to eat!
The Top Things to Do in San Antonio
Historic Pearl District
One of the trendiest spaces in San Antonio is the Historic Pearl District. Formerly the Pearl Brewery, now the area has been revitalized into a thriving neighborhood of high-quality restaurants (over two dozen of them!), the beautiful Hotel Emma, and an eclectic array of small boutiques. The Food Hall, housed in the former Bottling Department, is a definitely highlight.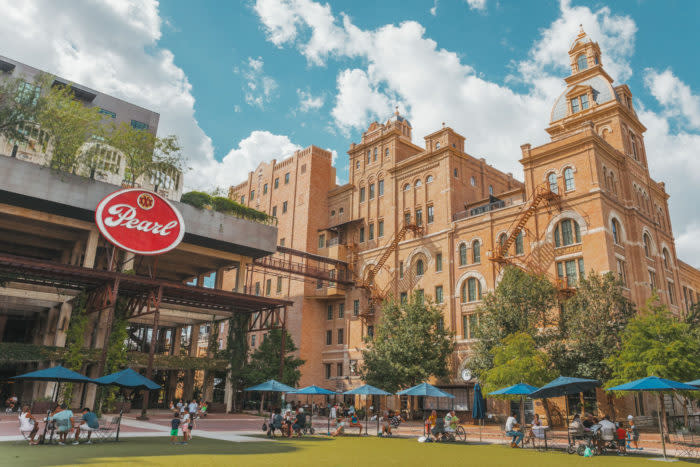 The vibes at the Pearl are immaculate. If you're a fan of industrial repurposed buildings and unique histories, you'll love the Pearl. It's also conveniently located down the River Walk, but a mile from the more highly trafficked tourist areas, so it's much quieter.
The Alamo
If you're visiting San Antonio, the Alamo is a must-see. It's the city's top tourist attraction and one of the most iconic landmarks in Texas. You can go inside the Alamo for free, but you'll need to make advance reservations, which you can do here. Timed entry helps to preserve this historic site.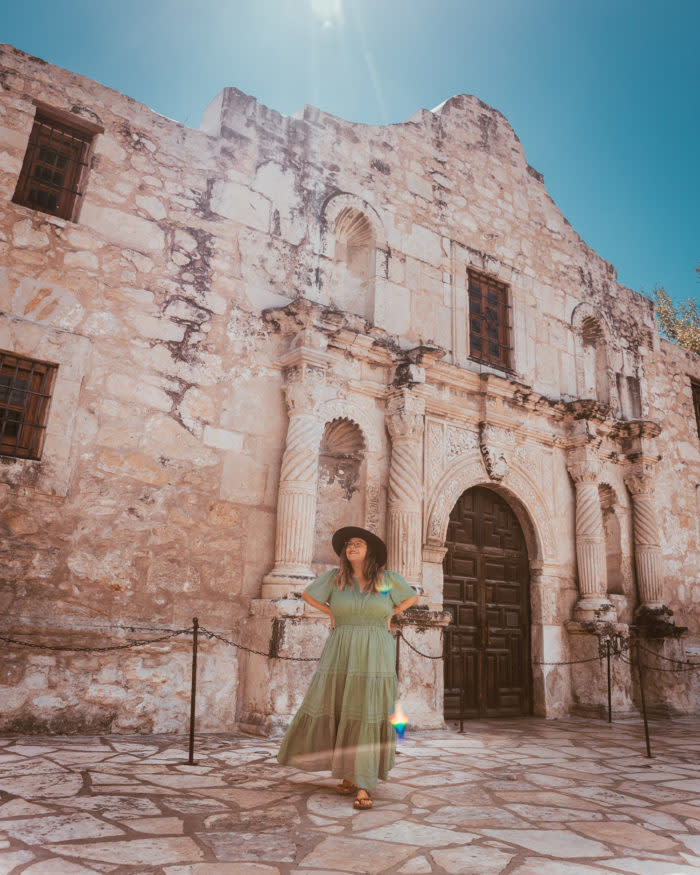 For $9, you can upgrade your experience with their audio tour, which also includes access to the Alamo Exhibit. Or, if you're only interested in the museum, you can book that separately for $5. The museum showcases the site's 300-year history through highlights from the Alamo and Phil Collins Texana Collections.
Japanese Tea Garden
Over 100 years old, the Japanese Tea Garden is one of the most beautiful and serene spots in San Antonio. It's free to enter and open daily from 7 a.m. to 5 p.m. It's also dog friendly (as long as they're leashed). The garden features lovely ponds, bridges, stone lanterns, and a 60-foot waterfall.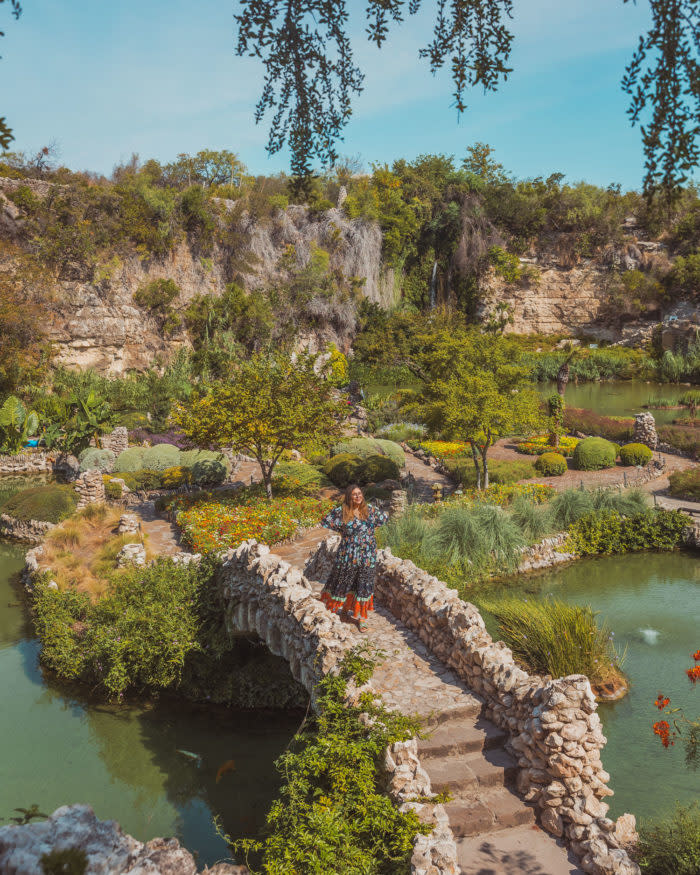 San Antonio Botanical Garden
With over 38 acres to explore, the San Antonio Botanical Garden is a place where you can see beautiful and exotic plants, learn about nature, and enjoy art and culture. This is a great family-friendly activity for those visiting San Antonio. It's also definitely worth it to stop at Jardin for a meal after your visit, the wonderful restaurant located near the entrance to the garden.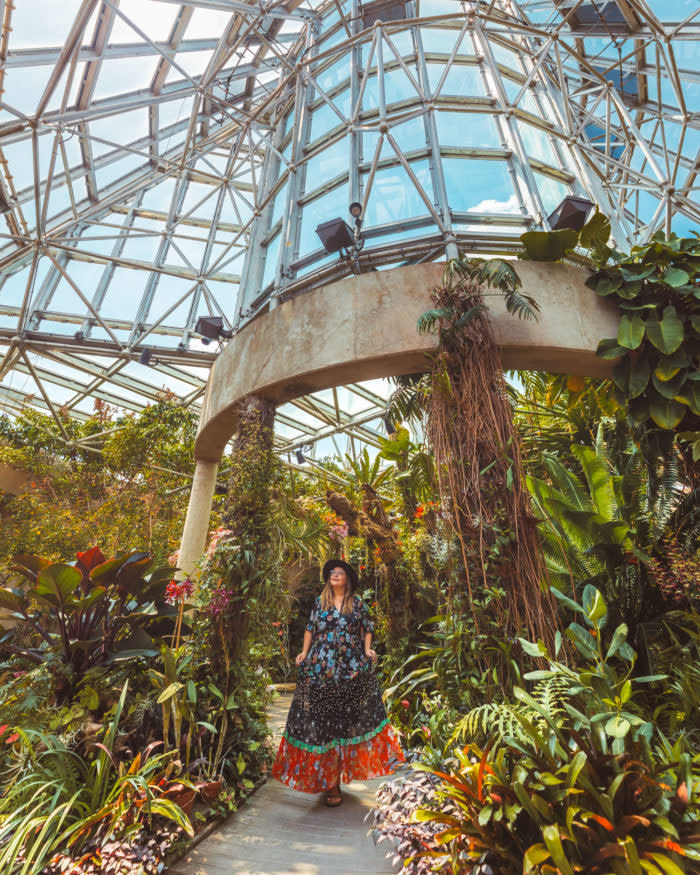 General admission is $16 for adults on weekdays and $18 on Friday-Sunday.
In winter, you can get special tickets for Lightscape, a magical holiday light display set along a one-mile path through the garden.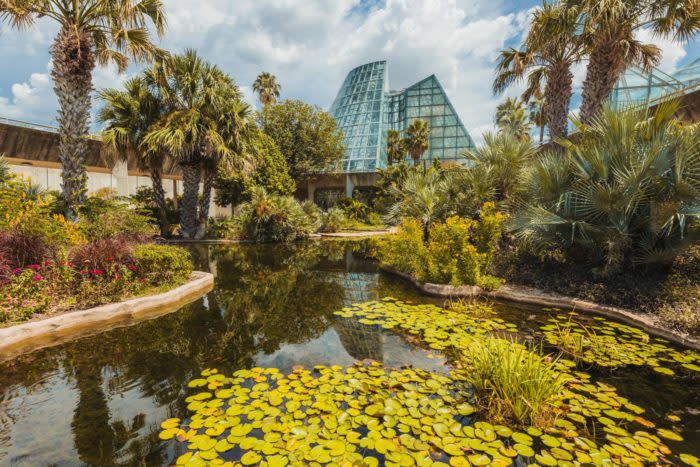 San Antonio Museum of Art
The San Antonio Museum of Art's unique art collection includes more than 5,000 years of history and genres ranging from ancient to modern – it's especially known for its sections on Roman, Egyptian, and Greek art, as well as a large Latin American art wing. The building itself is also worth noting for its uniqueness, as it's located in a former Lone Star Brewery complex.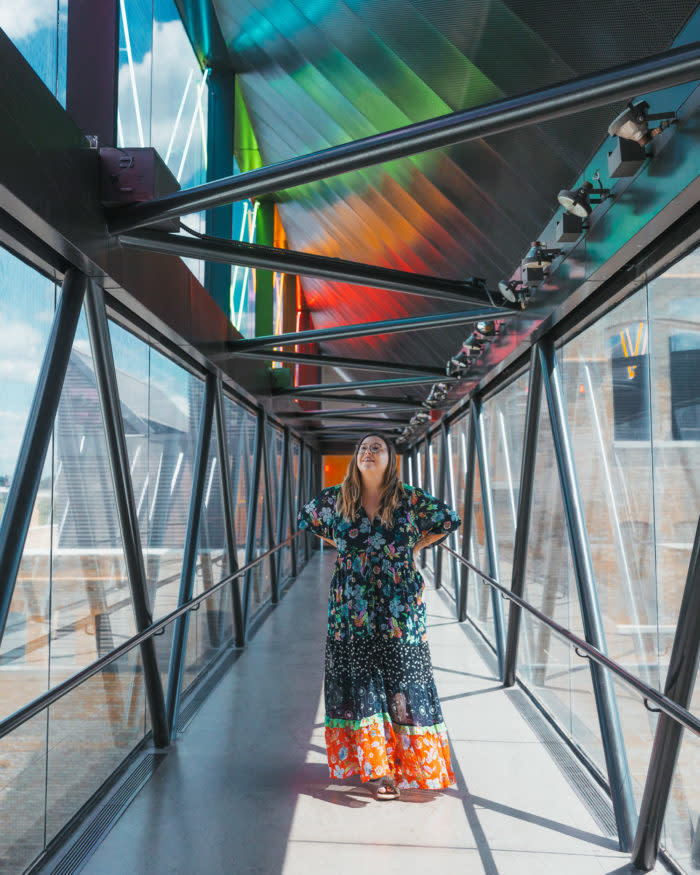 Right now, one piece on display to especially visit is a particular Roman sculpture. Remember that viral story about a Roman statue found at a Goodwill in Austin? Well, that sculpture portrait can now be found at SAMA through 2023 before it gets shipped back to Germany!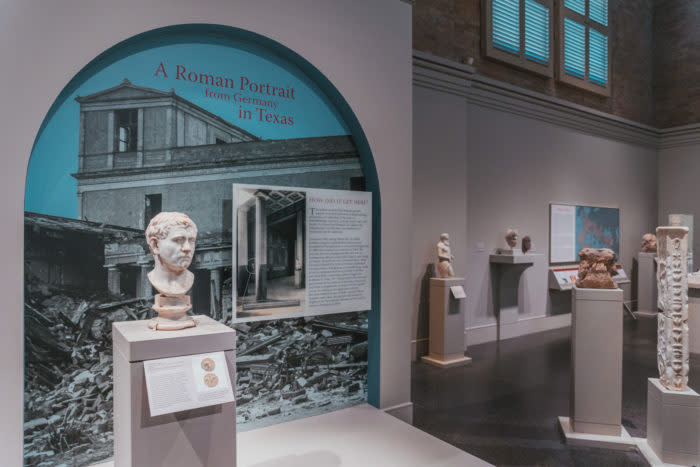 Tickets are $20 for adults, $10 for youths, and free under 13. They also offer free hours weekly for Bexar County residents.
Sister's Grimm Ghost Bus Tour
If you're looking for something a little different and slightly spooky, the Sister's Grimm Ghost Bus Tour is a great option (and is one of the top-rated ghost tours in the country).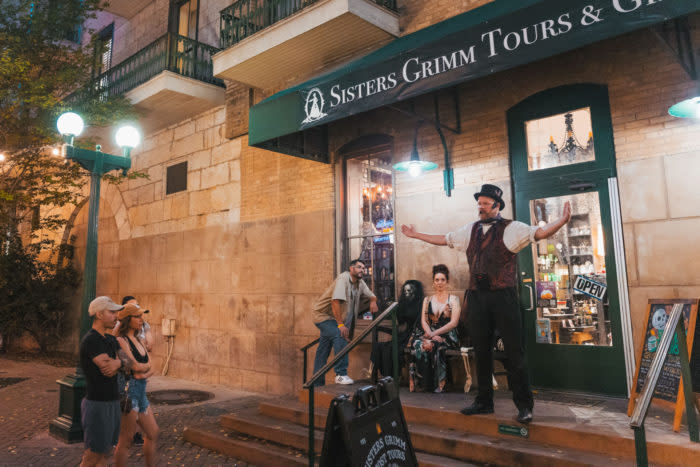 The tour takes you around to some of San Antonio's most haunted locations, including the super haunted Menger Hotel, a historic cemetery at night, and more. The tour is 2.5 hours, and you do get on and off the bus (but the bus is nice since it means you can cover more ground than most walking ghost tours).
Even if you don't believe in ghosts, this is a fun thing to do at night in San Antonio and you'll hear some interesting history of the city (like about their red light district of the early 1900s) and fascinating true crime stories as well.
San Antonio Riverwalk
The San Antonio Riverwalk is one of the most iconic destinations in the city. Located in the heart of downtown San Antonio, this vibrant network of walkways and waterways winds its way through a bustling urban center, connecting historic neighborhoods and popular tourist attractions along the way.
Spanning 13 miles along both sides of the San Antonio River, this bustling pedestrian path is home to countless restaurants, boutiques, and shops. Whether you're looking for a place to grab a quick lunch or are interested in exploring the vibrant local art scene, there is something for everyone on the Riverwalk. Definitely try one of the narrated Go Rio River Cruises if you have the chance. The tour lasts 35 minutes, operates daily from 10 am-10 pm, and will give you a good overview of the history and architecture of the area.
The SAGA at San Fernando Cathedral
Known as The SAGA, this magnificent display by artist Xavier de Richemont tells a story of thousands of years of history and culture of San Antonio, using cutting-edge technology to bring dazzling images to life on the façade of San Fernando Cathedral. The projections are a true spectacle and the best part is, it's absolutely free to watch!
The full projection show lasts for 24 minutes and has multiple nightly shows on Tuesday, Friday, Saturday, and Sunday.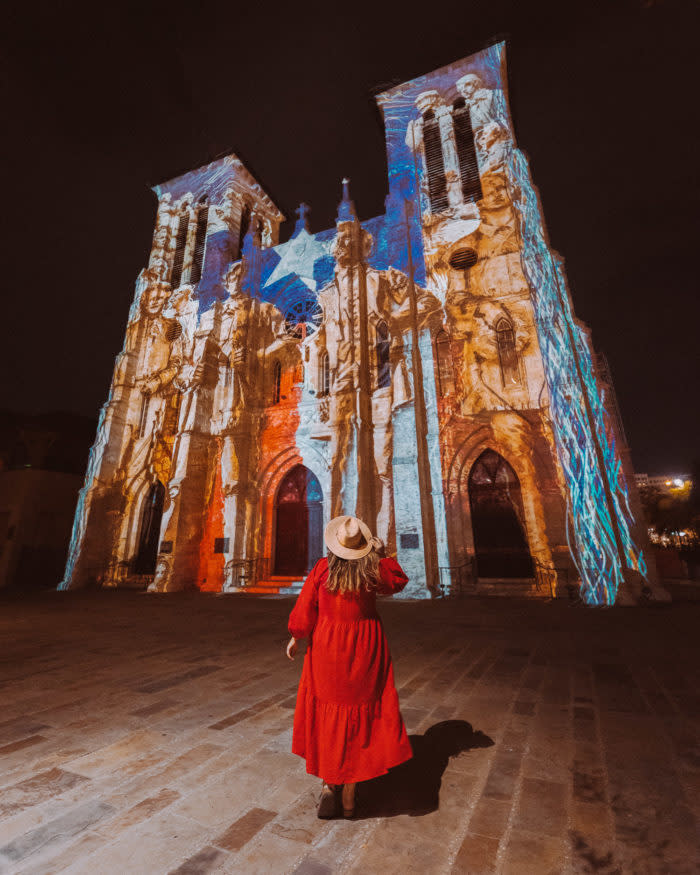 Attend a Festival or Event
During my visit, I was able to attend the Ford Parade of Lights, which only happens in early September. The parade features ten 26-ft-long boats with unique lantern light displays floating down the San Antonio River Walk. It's free to attend and runs from 8-10 p.m. each night it's held. You'll see themed floats with lit-up cacti, chili peppers, and other Texas elements, along with other themed boats. It's a fun family-friendly event to attend, and one of the best ways to watch is from one of the many restaurant patios along the River Walk (I watched from Boudro's, which was excellent). You can also easily watch from one of the many bridges or along the River Walk paths.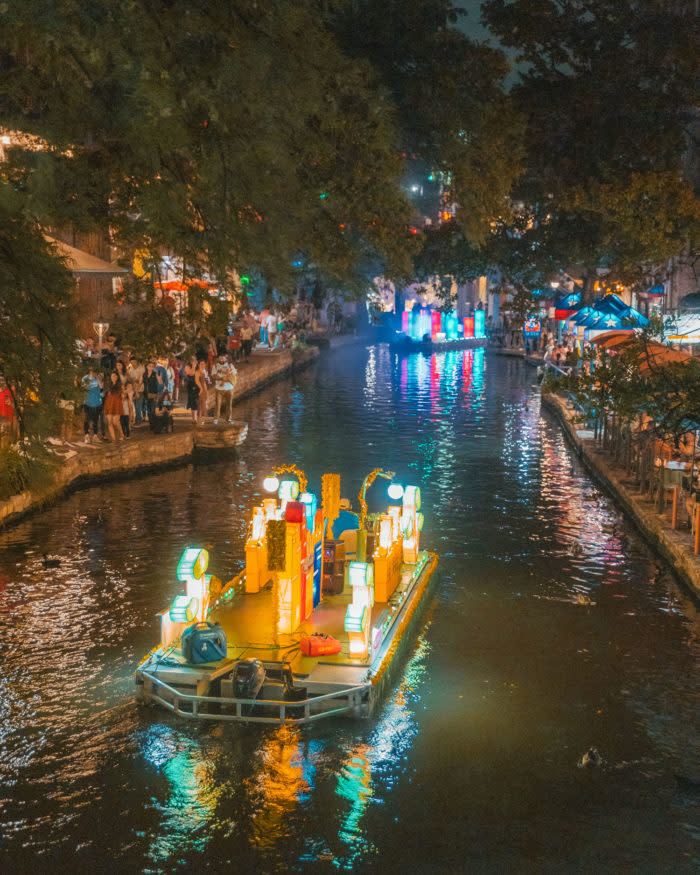 Of course, San Antonio has many other awesome events to attend year-round if you want to plan your trip during one of them. Other great events to check out include the San Antonio Stock Show & Rodeo, Día de Muertos, Fiesta San Antonio (the city's huge 10-day party), and the Ford Holiday River Parade and Lighting Ceremony (which occurs right after Thanksgiving).
Where to Eat in San Antonio
La Panadería
La Panaderia is one of San Antonio's most well-known bakeries, founded by José and David Cáceres. La Panadería  is a great place to get a taste of Mexican pastries, bread, and desserts like Pan dulce, Alfajores, Yoyos, Cochinita Pibil, and more. Even though there are several bakeries in the city that provide the traditional pan dulce, La Panadería's is considered one of the best. When I visited, the line to eat here went all the way out the door and down the street!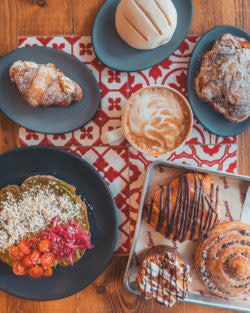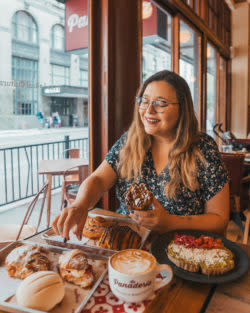 Many people have been going there for years and continue to love the customer service, the friendly staff, and, of course, the tasty baked goods. It has the perfect combination of bread, cookies, and pastries that will leave your mouth watering, and if you ever find yourself at La Panadería, don't forget to try their best seller, the tequila cream-filled almond croissant.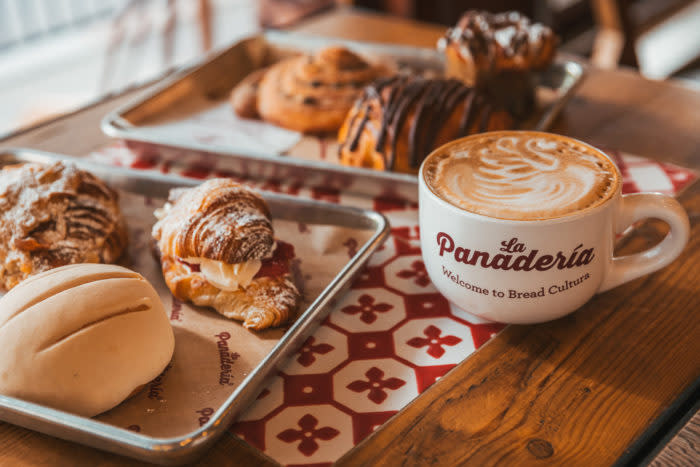 Boudro's Texas Bistro – River Walk
Dining at Boudro's is a must for anyone visiting the River Walk. It's got the riverside ambiance plus amazing food, giving it the whole package. I heard one of the passing boat tour guides say that Boudro's was recently named one of the top 50 restaurants in the country, and I can see why! Some highlights of the menu include the shrimp and grits, the prickly pear frozen margarita, the tableside guacamole, and the blackened prime rib. This is a place you'll want reservations for, especially if you're hoping to dine on a weekend or want to try to request a riverside table. If you're looking to celebrate a special occasion like a birthday or anniversary while on the River Walk, this should definitely be at the top of your list for consideration.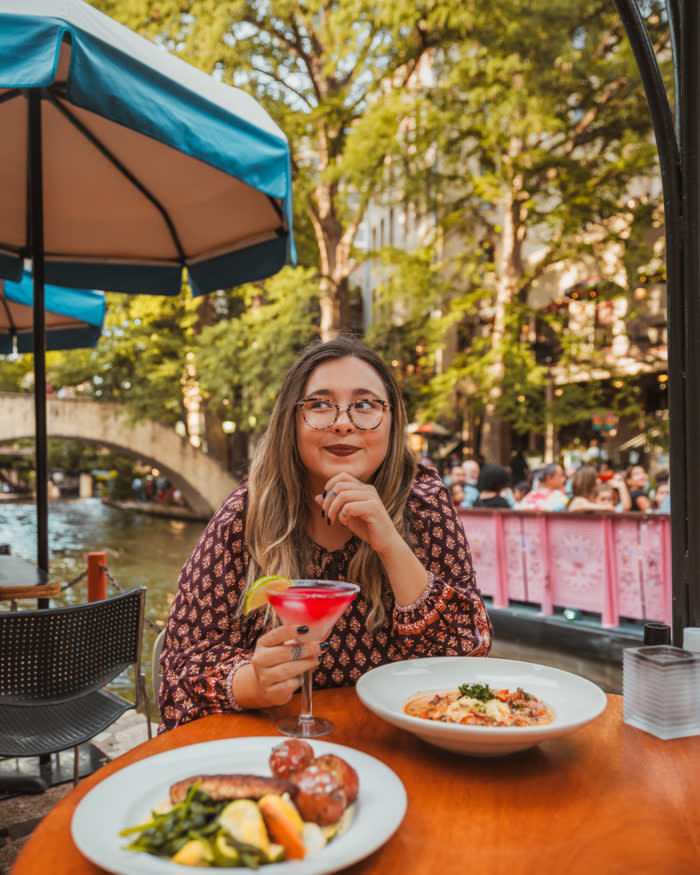 Botika
Located in the Historic Pearl District, Chef Geronimo Lopez serves up Peruvian-Asian fusion fare. You'll find a variety of dishes from sushi rolls to empanadas. Menu highlights include pork steam buns, Ají de gallina empanadas, red miso salmon, their quinoa chicken and waffle on their brunch menu, and cocktails like the Bo-Tiki (made of Brazilian Cachaca, China-China, passionfruit, orgeat, lemon, sugar).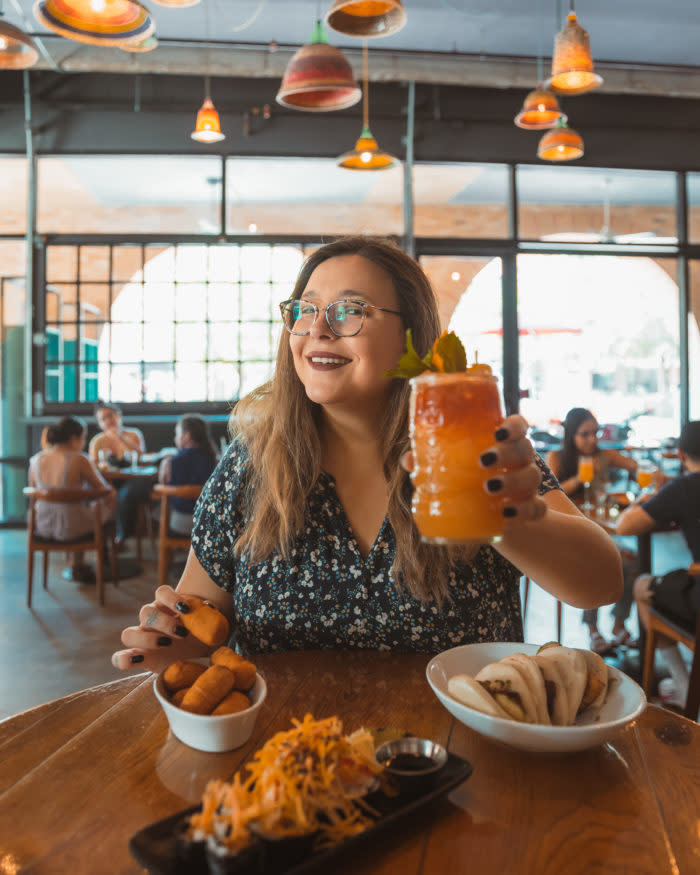 Landrace
Located inside the 20-story upscale Thompson Hotel, Landrace is a haven for meat lovers. The restaurant is known for its wood-grilled steaks and has a steadfast commitment to using local ingredients. Landrace is a result of the hard work and dedication of James Beard award finalist chef Steve McHugh, who moved from New Orleans to San Antonio. Landrace is all about celebrating local Texas ingredients and using heritage growers from nearby.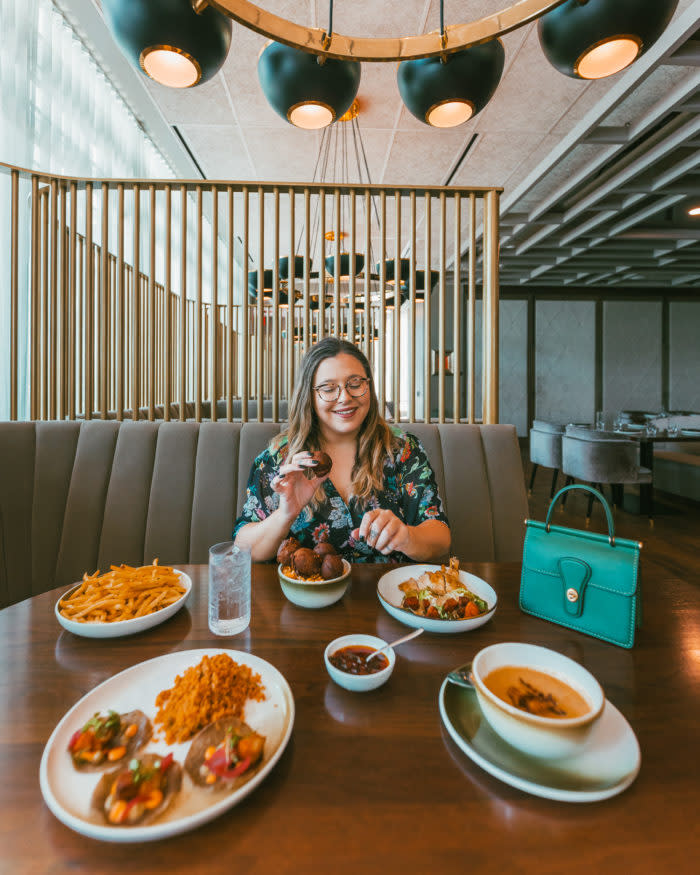 Mi Tierra – Market Square
Mi Tierra is an 81-year-old Tex-Mex restaurant and a famous landmark of San Antonio among visitors and locals alike. Established by Pete and Cruz Cortez, Mi Tierra is now under the management of their children and grandchildren.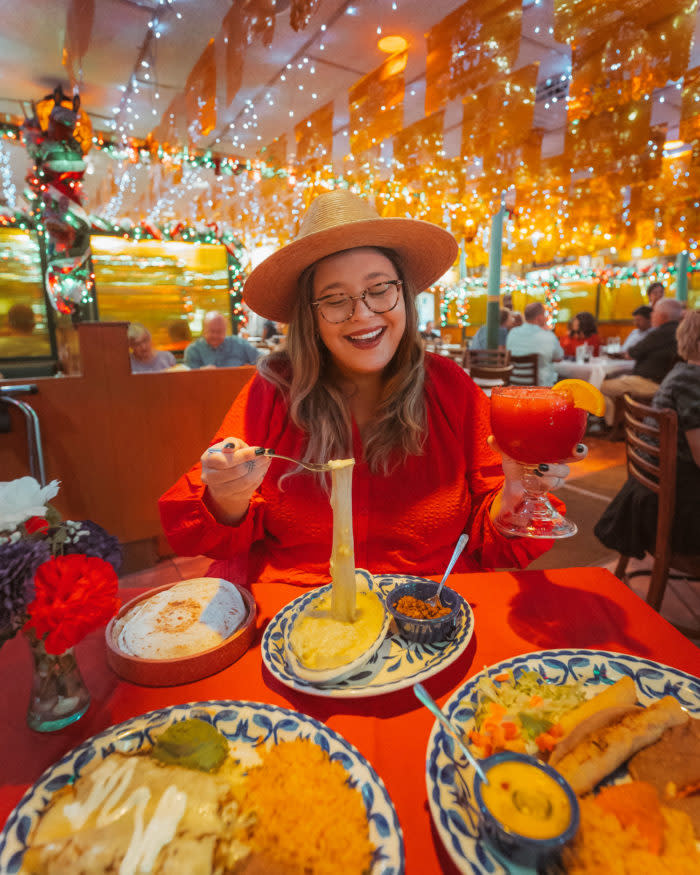 At the entrance to Mi Tierra, you'll find a large ofrenda, a type of memorial altar filled with religious figurines, candles, and photographs of loved ones who have passed away. When you enter this bustling eatery, you'll be greeted with genuine Texas hospitality and served delicious, traditional Mexican cuisine.
Nola Brunch & Beignets
One of the best chefs in San Antonio, New Orleans native Pieter Sypesteyn owns and operates Nola Brunch and Beignets. He brings his authentic flavors and dishes to this newish restaurant, which is all about brunch. This means you can have a brunch that is similar to the ones served in New Orleans but with a San Antonio twist!
It's one of the best places in San Antonio to go for a leisurely "brunchy" meal with a wide variety of tasty dishes. Just to name a few appetizers, there is Hashbrown Crusted Trout, Bread Pudding French Toast with seasonal marmalade, Eggs Rockafella, a Blue Crab Omelette, and Shrimp and Grits. Save room for the beignets; they come in a variety of fillings, from the traditional powdered sugar to more exotic options like lemon curd and coffee and chicory. The chicken and beignets were probably my favorite meal I had on my whole trip to San Antonio.
Jardín at the Botanical Gardens
Jardín is the latest venture by Chef Jason Dady and is located in the historic Sullivan Carriage House. The restaurant draws its influence from the Mediterranean Basin. There's a white marble bar where you can relax during the day and an outside dining area named Gertie's Garden, where you may eat your meal in a rustic country setting.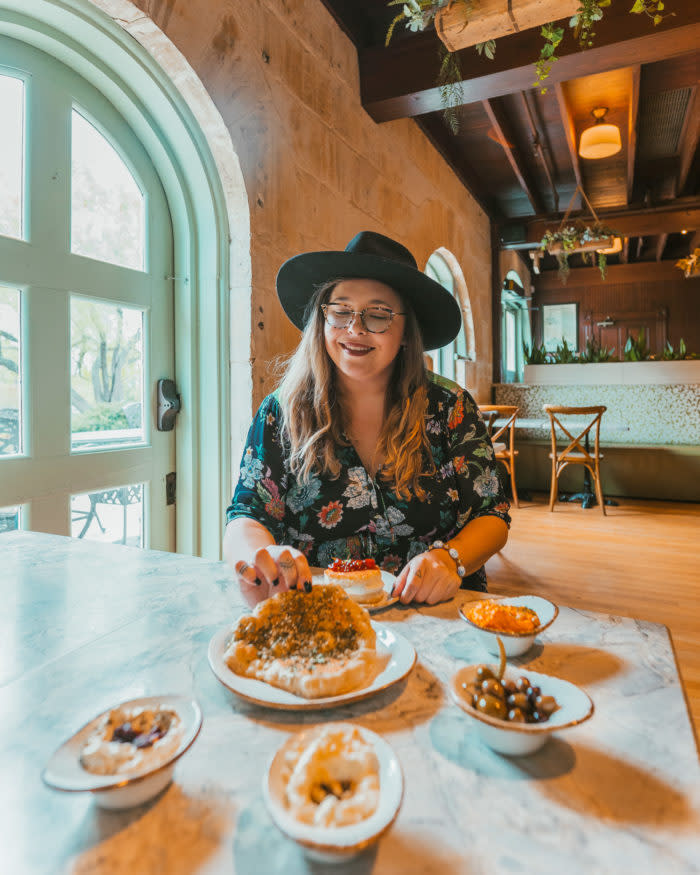 Jardín is a lovely ode to the San Antonio Botanical Garden, which captures the spirit of the place as well as its gastronomy. The menu is influenced by Mediterranean cuisine, and it offers a wide variety of dishes that have bright, vibrant flavors inspired by the Garden. In addition to the boutique options of both new and old-world wines on the wine list, the bar also serves traditional cocktails like the frozen Peach Bellini and a comprehensive range of alcoholic beverages. I recommend visiting for lunch and trying their mezze plates like the whipped feta and tzatziki.
Cellar Mixology
St. Paul's Square in downtown San Antonio is where you'll find Cellar Mixology. The walls in the basement of this establishment date back to the 1920s, giving it an authentic speakeasy vibe. Cellar Mixology is a hip, underground bar known for its innovative cocktails using fun tricks like liquid nitrogen and their spherifications. Some of their signature drinks include Henry's Old Fashioned and Death By Roses.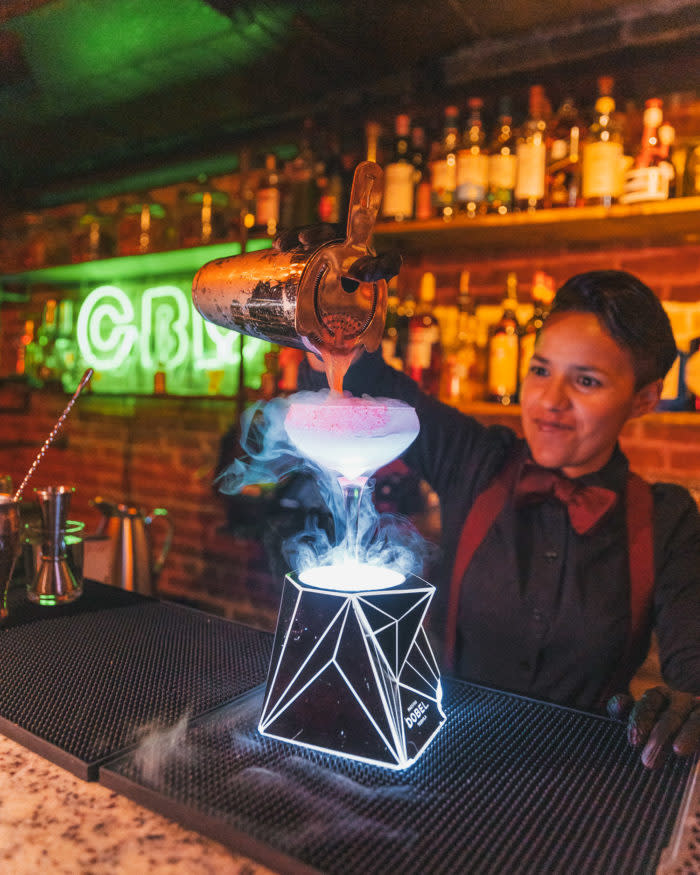 Where to Stay in San Antonio
Hyatt Regency San Antonio Riverwalk
At the Hyatt Regency San Antonio Riverwalk, you'll be centrally located with easy access to a plethora of hot spots, as well as the best shopping and dining destinations in San Antonio. The Hyatt Regency San Antonio Riverwalk is well situated on the lively Riverwalk, with easy access to the historic Alamo. From here, you can readily make it to all that this dynamic city has to offer.
The hotel features a stunning rooftop pool, an on-site spa, and an elegant 16-story atrium lobby, along with modern and stylish guestrooms with contemporary amenities. When you stay at the Hyatt Regency San Antonio Riverwalk, do not pass up the opportunity to unwind and take in expansive vistas of San Antonio while sunbathing and swimming on the hotel's rooftop sundeck and swimming pool. There are also several restaurants onsite, such as Q Kitchen and On the Bend Oyster Bar & Lounge, and a new pizza food truck outside for late-night eats.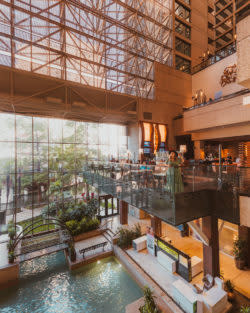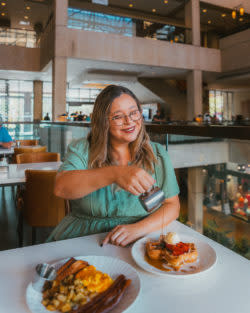 Trust me, if you're looking for the most convenient place to stay on the Riverwalk and be within walking distance of some of San Antonio's biggest tourist attractions, the Hyatt Regency is the best option for where to stay in SATX!
Disclaimer: This trip was sponsored by Visit San Antonio. Thanks for having me!