With a rich history, culture, and a sense of adventure, San Antonio is considered the city of authenticity and perfectly embodies the true patriotic spirit; there is no better time to plan a trip to visit than the 4th of July weekend.
From River Walk parades to culinary contests and marathons, follow along for San Antonio's jam-packed patriotic weekend itinerary.
Here is how to spend your 4th of July weekend in San Antonio!
Bud Light Stars, Stripes & Lights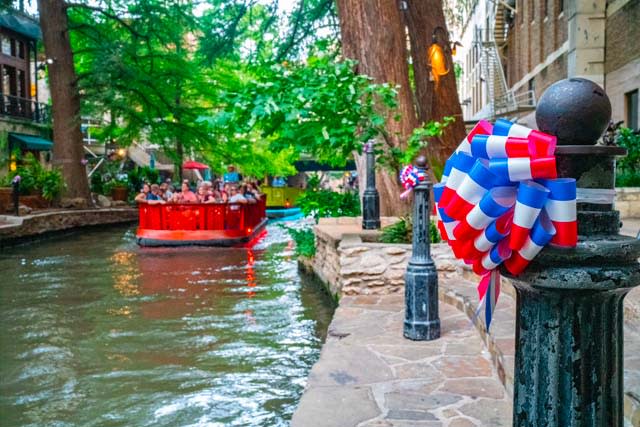 Photo by Erika Pinkley
San Antonio's famous Downtown River Walk will be adorned with over a thousand flags as well as patriotic luminarias, lighting up the way for 4th of July celebrators. In addition, trees and bridges will be decorated with red, white, and blue ribbons.
This free-to-enjoy display will make a perfect backdrop for your July 4th photos.
Fourth of July River Walk Artisan Show
While you are scoping out the Bud Light Stars, Stripes and Lights décor, make your way over to the Fourth of July River Walk Artisan Show.
You can expect to find over 40 vendors with handmade artisan items. Browse unique textiles, woodwork, jewelry, paintings, beadwork, and more from July 1st through July 4th. This free event is located at the River Walk Extension, close to the San Antonio Chamber of Commerce and the Shops at Rivercenter.
Mark's Outing Food Fight Friday
If you prefer to explore the foodie scene in San Antonio, then you will want to check out Mark's Outing Food Fight Friday, taking place on July 1st at Mark's Outing. This burger-eating contest is a regular event in San Antonio that takes place every first and fourth Friday of this summer. It is a five-minute showdown to eat up to five burgers, with a prize of $1000.
Attendance is free; however, if you want a chance to chew out the competition, you must register 24 hours before the event, be over 18, and sign a liability waiver.
Fiesta Noche Del Rio (65th Season)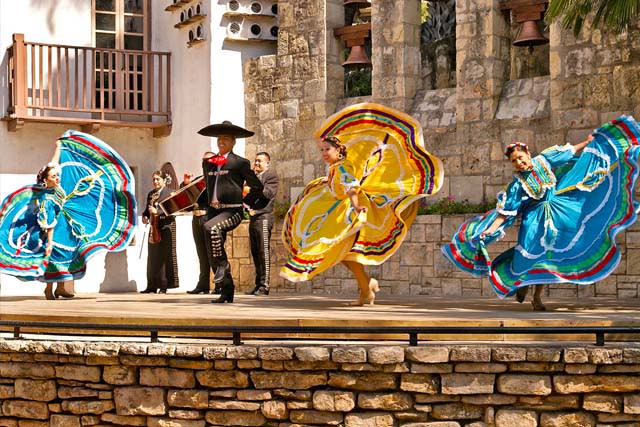 During your stay, participate in the 65th Season of Fiesta Noche Del Rio, an outdoor fund-raising event that highlights traditional song and dance, while offering mouthwatering authentic cuisine from Mexico, Spain, Argentina, and Texas. The show is produced by Alamo Kiwanis Club Charities, Inc., a non-profit focusing on children's charities.
The event will be held every Friday and Saturday night, from 8:30 pm until August 8th, along the River Walk at the Arneson River Theatre in La Villita, 418 Villita St. Be sure to purchase tickets ahead of attending the event.
Armed Forces River Parade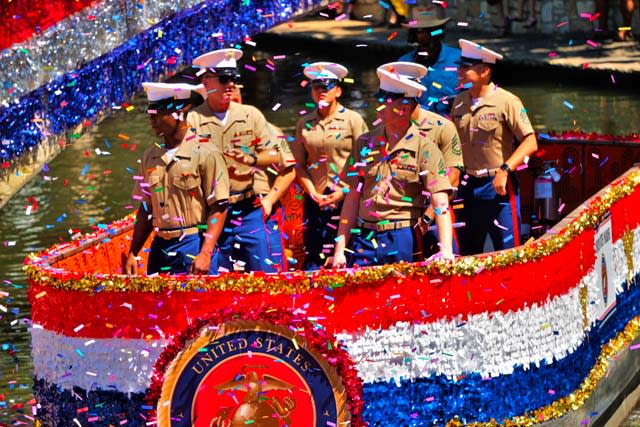 Starting at the Arneson Theatre, The Armed Forces River Parade will display patriotically themed and decorated floats that can be seen freely throughout the downtown River Walk.
If you have loved ones who have passed and served in the armed forces, the Military Remembrance Project can honor them by listing their name on the floats displayed.
Sunday Summer Dance Party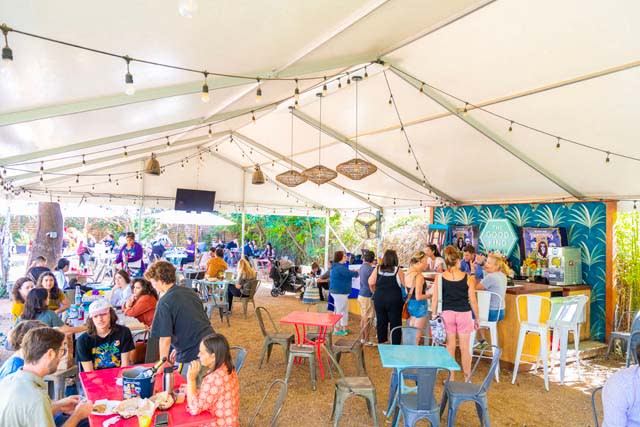 Put your dancing shoes on and swing by The Good Kind, located at 1127 S St Mary's St, San Antonio, TX 78210. Known for its locally sourced fresh food and cocktails, the restaurant hosts a free dance party every Sunday evening with various rotating DJs from 5 pm to 9 pm. Grab a drink and boogie the night away!
SARR Freedom Day Run
Wear red, white, and blue and sign up for the SARR Freedom Day Run. The event features a 4-Miler, 2-Miler, and L'il Firecrackers Run from 7 am to 9:30 am.
Patriotic runners get a swag bag complete with a sleeveless tech tee and finishers medal. After, there will be a post-race party to continue the fun.
Market & Movie at Los Patios
Start your 4th of July weekend with a free movie on the lawn, beginning at sundown (8 pm) at Los Patios. Stop by before the movie for lawn games, a bounce house, food, drinks, and a vendor's market that will be open from 4 pm to 7 pm.
Bring a chair and enjoy!
Texas Fest
On Saturday, 2nd July, you can attend the Texas Fest, a celebration of Texas and Veteran-owned businesses held at the Alamo from 3pm to 9pm. Browse a wide selection of goods and foods while enjoying live music at this free-to-enter festival.
Fireworks at Woodlawn Lake Park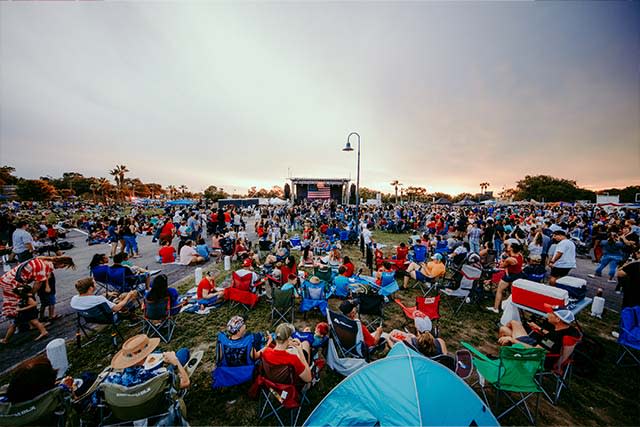 It is not a 4th of July celebration without fireworks! Woodlawn Lake Park will be hosting fireworks on the 4th of July, with plenty of activities throughout the day.
Market Square Freedom Fest
Head down to Market Square for an authentic San Antonio experience between Friday and Sunday, July 4th. The Market Square Freedom Fest will host and display vendors, food, and live music inspired by the beautiful and rich culture of San Antonio and Mexico.
The DoSeum's Beyond Limits: Sensory Friendly Program
 If you are looking for something more family friendly and inclusive, the DoSeum's Beyond Limits: Sensory Friendly Program offers a reduced capacity event that will host sensory-friendly activities and performances including finger-painting and a magic act. The event will take place at the DoSeum, July 3rd, from 6pm to 8pm; cost for entry is $14 at the door, but pre-registration is $7.
Enjoy San Antonio's 4th of July Events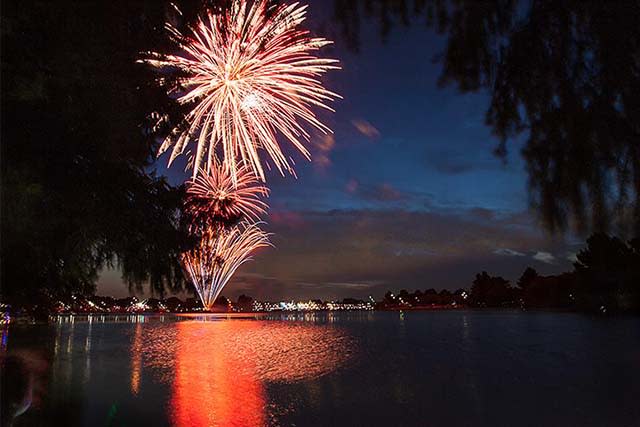 Photo by Oscar Moreno
San Antonio is the perfect destination to enjoy a variety of 4th of July events. These are just some of the many Independence Day festivities happening this weekend, so you are guaranteed to find a memorable experience for you and the family!
The 4th of July weekend is just around the corner, but it is not too late to book a trip!
There is no shortage of fun summer fun in San Antonio! There is plenty to see and do, so visit this our events page for even more celebrations and book your trip to San Antonio today!