Attention history buffs and lovers of all that is arts & culture! It's that time again – mark your calendars and prepare the 8th Annual World Heritage Festival, returning to San Antonio September 6-10, 2023.
The World Heritage Festival pays homage to the San Antonio Missions – our revered historical sites brimming with stories from the past and glimpses into a culture-rich future. As you step into this experience, you'll find yourself surrounded by living history and a vibrant atmosphere. We're ready to celebrate and share the wonders of the San Antonio Missions, the first and only UNESCO World Heritage Site in Texas!
Schedule of Events
Let's delve into the details of this five-day event. The City of San Antonio World Heritage Office, along with its amazing partners, created an extravaganza that extends beyond our beautiful city of San Antonio – it's an international affair! The festival coincides with the Organization of World Heritage Cities Solidarity Day, observed on September 8th. This means that while you're immersing yourself in the festivities, people across the globe are doing the same in their own corners of the world.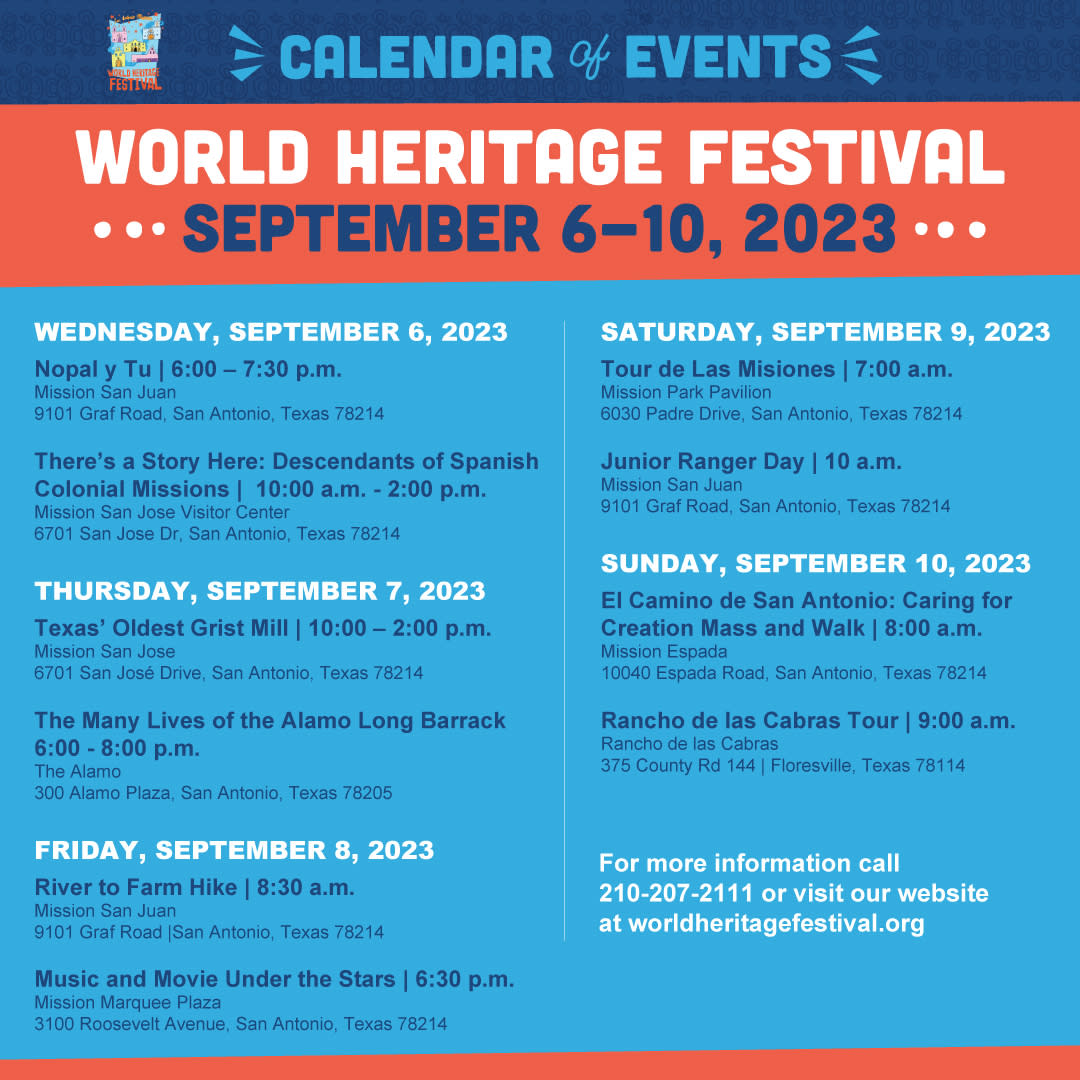 There are several events to check out at the World Heritage Festival. Here is information on a few of these events, but be sure to head to the World Heritage site for complete event information.
Mesa at the Mission: Nopal y Tú | September 6, 2023 | Mission San Juan | 5:30-7:30 pm: Did you know that San Antonio Missions National Historical Park and the Food Bank have a partnership that includes the Food Bank planting and harvesting 45 acres of crops for the community? Become a part of the efforts and donate a cactus paddle from your own garden to be planted, share your own stories of what gardening and nopales mean to you, and view demonstrations throughout the evening. Free to attend.
Music and Movie Under the Stars | September 8, 2023 | Mission Marquee Plaza | 6:30-10:30 pm: In honor of San Antonio's commitment to being Military City, USA, The World Heritage Office and Military Veterans Affairs Department welcomes you to the 4th Annual Music and Movie Under the Stars. Enjoy live music with the elite 3rd Marine Aircraft Wing Band and school choirs, interactive activities, food trucks - and of course a movie! This year features the original "Top Gun." Free to attend.
Tour de las Misiones | September 9, 2023 | Mission Park Pavilion | 7:00 am:  Bike, walk, or ride your way through the San Antonio Missions. Should you choose to bike, this one is meant to be a slow and social bike ride. Don't have a bike? Be sure to contact San Antonio BCycle as they are providing registered participants with a free Bcycle for this event!
See You at the World Heritage Festival
Here's a handy tip: don't forget to capture those unforgettable moments. Share your experiences with fellow festival-goers by tagging @worldheritagefestival on Facebook and @worldheritagesa on Instagram. Plus, there's a special hashtag – #worldheritagesa – waiting for your creative touch!
The World Heritage Festival is all about appreciating our roots and embracing the journey ahead. We're ready to welcome you to create lasting memories and join in the joy of this unique experience. Get ready to be a part of the celebration because the festival is poised to offer you an adventure you'll treasure.