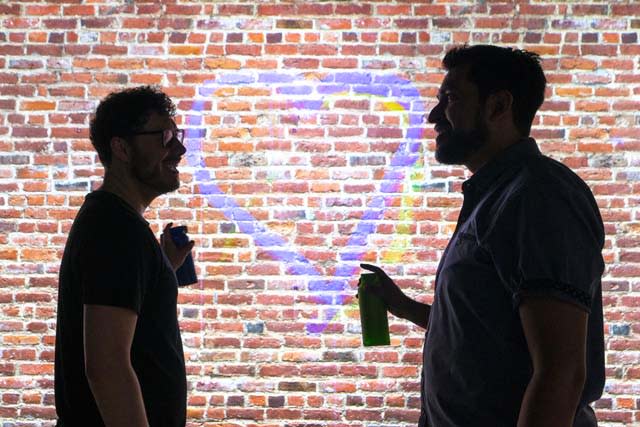 Hopscotch
Pride Month is observed annually in cities across the United States, and San Antonio is no exception. Every June, the Alamo City comes together to celebrate differences, promote awareness, and share in the celebration of the LGBTQ+ community.  
Everyone is welcome in the Alamo City and there is no shortage of things to do in San Antonio this Pride Month. Keep reading for a jam-packed list of events and activities for all to enjoy! 
Bud Light Pride River Parade & Celebration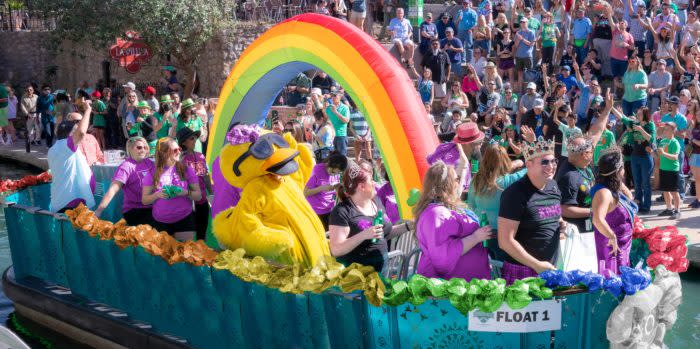 This year's Pride Month celebration in San Antonio will offer something it never has before, a parade and festival on the famous San Antonio River Walk on June 18!
The inaugural Bud Light Pride River Parade was created by Visit San Antonio to promote the city's inclusion, encouragement and support of the LGBTQ+ community to live openly with equal rights. Festivities begin with a Celebration at La Villita from noon to 5 p.m. where visitors will enjoy an afternoon of family-friendly, live on-stage entertainment from DJs, bands, impersonators, dancers and more.
The Bud Light Pride River Parade will have two showings, each with more than 17 colorful river barges. The first on the Downtown Reach of the San Antonio River Walk will serve as the closing event for the Celebration festival at La Villita. The encore presentation, on the River Walk Museum Reach, provides an additional opportunity to be part of the community.
Pride San Antonio & Pride Week
Pride San Antonio is a non-profit organization that works to "facilitate the needs of individuals so that individuals can facilitate the needs of the community." 
What began in 2004 as a small festival has grown into an organization and community of passionate individuals looking to come together and embrace the diverse nature of who we are. As an organization, the goal is to recognize the contributions of the gay, lesbian, bisexual, and transgender communities in Greater San Antonio.  
This is accomplished through education, networking, human rights campaigns, and, of course, celebrations. One such celebration, and perhaps the biggest, is Pride Week. 
Night out at the Zoo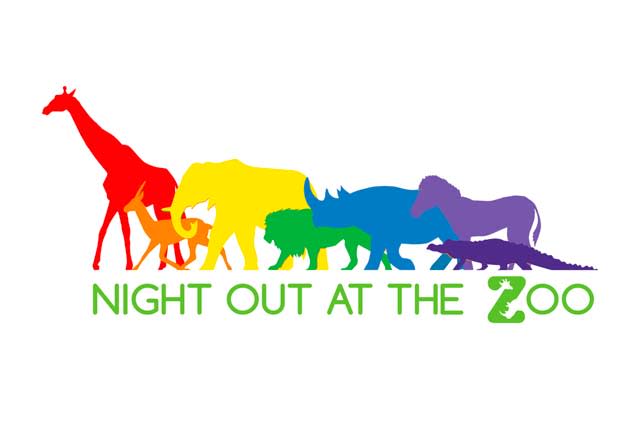 Held this year during Pride Month, Pride Week 2022 in San Antonio begins June 17th with Pride San Antonio's official kickoff party, Night Out at The Zoo. Witness the wonders of the San Antonio Zoo as they entertain guests of all ages with a night of unique animal encounters, fun vendors, and live music. 
Pride "Bigger Than" Texas Grand Marshal Meet & Greet
Eager to meet the Pride Parade Grand Marshals of 2022? If so, then head over to the "Bigger Than" Texas Grand Marshal Meet & Greet on June 24th. During this event, Pride San Antonio will name two Grand Marshals who exemplify the qualities and values that personify not only Pride San Antonio but all the work they as individuals do to protect and honor the LGBTQ+ community. 
Pride "Bigger Than" Texas Festival & Parade
Be sure to check out Pride Month Festival! Doors to the festival open in the morning and the celebrations last all day long, spilling over into both sides of Crockett Park.
Wander around with friends, family and loved ones as you explore the multiple booths and sponsored vendors, along with musical performances. Past festival events have included mass weddings and even a Running of the Queens High Heel Race. 
Then, prepare for the main event: the San Antonio Pride Parade. The parade will boast hundreds of unique floats representative of various organizations and culminate with a dazzling firework show.  
Six Flags Fiesta Texas Pride in the Park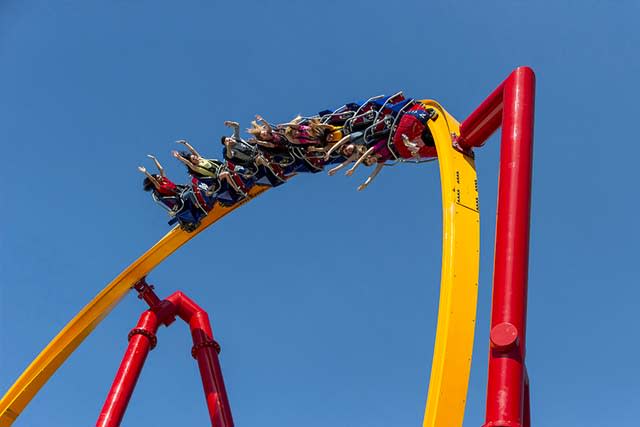 You thought the parade and fireworks were the finale, didn't you? Not so fast! After a week full of hope and diversity-minded events, Pride San Antonio will host Pride In The Park at Six Flags Fiesta Texas on Sunday, June 26th.
Come prepared to enjoy all the thrills and theatricals of Six Flags Fiesta Texas with an extra added dose of pride. This includes Pride-themed cocktails and treats along with Pride-themed merchandise, stages, and performances. 
*$5 for every ticket sold on June 26th will go to support Pride San Antonio. 
San Antonio Pride Month 2022 Events
Pride Month activities abound for eager locals and travelers alike looking to immerse themselves in our wonderful community. Whether you are visiting from near or far, there is no shortage of events to attend.  
Here are just a few! 
Illusions The Drag Queen Show 
This drag queen show is acclaimed as the "best drag Brunch show in San Antonio, Texas." Didn't know drag brunches were a thing? They are in San Antonio!  
For a full liquor bar and a fantastic time, book a spot at the Illusions the Drag Queen Show to experience thrilling live performances from some of the best drag queens in Texas. Not a fan of brunch? Dinner shows are available, too. 
Click here to purchase tickets to their dinner show. 
SA Cyclist PRIDE Ride 
Team Taco Cycling Group, Pride Center San Antonio, & Mixxedfit SA Dance Fitness Group are joining forces on June 4th to present the SA Cyclist PRIDE Ride. This free-riding event is designed to educate, promote, and empower members of the community. From 10AM-1PM, you'll be taken on a leisurely 12 to 15-mile adventure to various LGBTQ+ points of interest spots throughout San Antonio. 
View more information here. 
Pickleball & Pride Tournament 
Head to Chicken N Pickle on June 5th to participate in Pride Center San Antonio's Pickleball & Pride Tournament.  
Not experienced at pickleball? No problem. Choose between a beginner or advanced bracket and bring your partner along for the fun. The event includes a one-hour warmup and the paddles and balls, plus prizes for not only 1st and 2nd place, but the last-place teams, too! 
Click here to view full event details. 
Icon's Brunch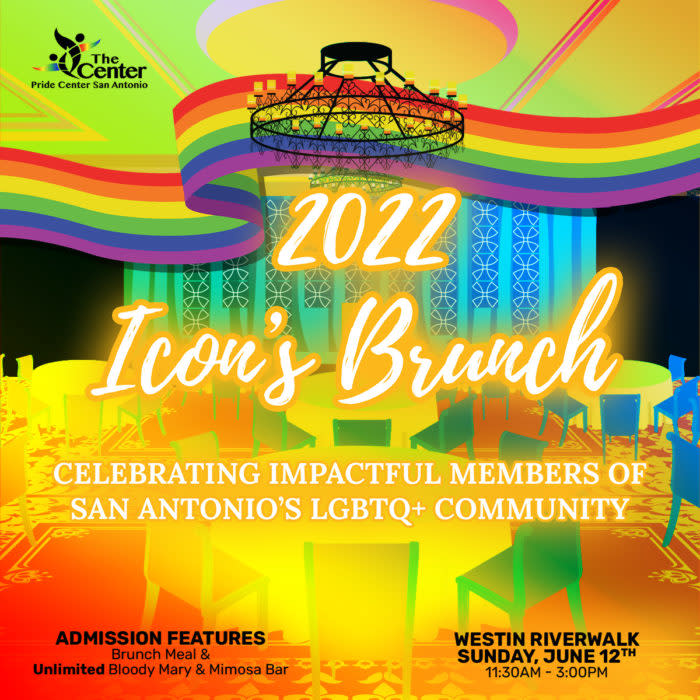 Have you ever wanted to visit the Westin Riverwalk's Navarro Ballroom? Well, this June 12th is your excuse to for The Pride Center's 2022 Icon's Brunch, a fun-filled event with special guests, live entertainment, and delicious food- oh and did we mention bottomless Mimosas and Bloody Mary's?  
Be sure to stay for the announcement of the Icon Award winners for Community Icon, Leadership Icon, Legacy Icon, Media Icon, Political Icon, and Rising Star! 
You can reserve your tickets or select your level of sponsorship here
Pride Bar Crawl 
Experience the proudest party of the year at the Pride Bar Crawl in San Antonio for just $15 per ticket ($10 if you purchase in groups of four or more). 
Tickets include two drinks, exclusive drink specials, waived cover at all venues, tasty local food, a professional photographer, and an awesome, exclusive after-party. 
Get your tickets to the Pride Bar Crawl here. 
LGBTQ+ Youth Empowerment with Pride Conference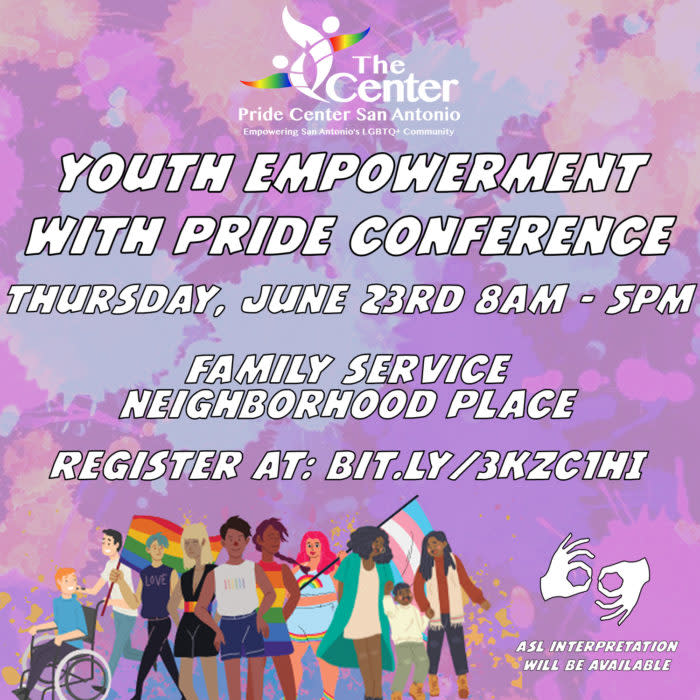 Visiting with LGBTQ+ youth? Take part in the Youth Empowerment with Pride Conference June 23rd between 8 AM to 5 PM.  
This full-day event is for youth between 12 and 17 and is designed to cover educational topics, including Queer History of South Texas, Intersectionality: A Framework for Social Change, and Creating Queer Political Power. 
Reserve your spot for this free event here. 
3rd Annual Centro Family Pride Day 
"A Brave Space for Every Family," is certainly a theme we can get behind! This year's 3rd Annual Centro Family Pride Day will be serving up music, games, tasty treats and more in a welcoming and inclusive environment for all.  
Be sure to dress up, bring flags, and come prepared for the iconic mini-parade at Madison Square Park downtown. 
Sign up for the free event here. 
Pride on the Strip Block Party 
Looking for a safe celebration of Pride packed full of powerful beats, pumping music, and streets full of energy and excitement? Then you can't miss the Pride on the Strip Block Party coming June 25th. 
Featuring some of the hottest LGBTQ+ clubs in San Antonio, expect nothing short of a blast on the strip during Pride Month. With a plethora of vendors, food, and drink, there will be plenty to explore and enjoy! 
How to Get Involved in Pride Month in San Antonio
Wondering how else you can show support for the LGBTQ+ community? Get involved!  
If you're interested, there are plenty of volunteer opportunities during Pride month and year-round provided through Pride San Antonio listed on their website.