'Tis the season to start planning your December itinerary. No matter what holiday you celebrate, San Antonio has no shortage of exciting experiences - from musical events to ballet performances, holiday lights, and more.
Bring yourself, your friends, and your family to enjoy everything this highly walkable city offers this holiday season.
Here are some top holiday events to attend in December:
Enjoy Endless Holiday Celebrations at Travis Park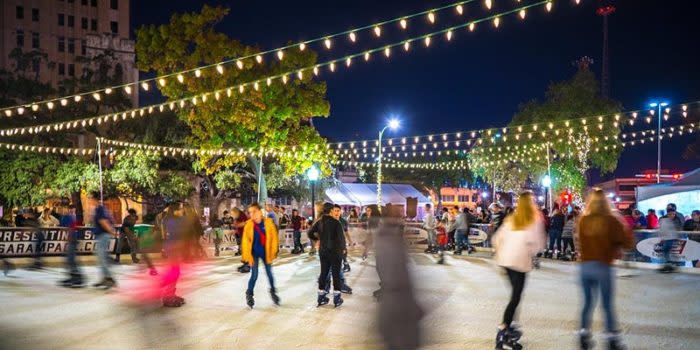 Rotary Ice Rink Presented by Valero (November 28, 2022 - January 16, 2023) Rotary Ice Rink Presented by Valero is back in San Antonio! Enjoy an evening of ice skating under the stars and holiday lights in Travis Park. Check the Rotary Ice Rink website for themed night information - Date Nights, Snow Nights, Food Trucks, and more! Be sure to get your tickets ahead of time!
H-E-B Christmas Tree (December 8, 2022 - January 6, 2023) Once you've had your turn zipping through the Rotary Ice Rink, find your footing on solid ground underneath the gorgeous 50-foot-tall H-E-B Christmas tree adorned with more than 10,000 lights and custom-made ornaments.
Grinchmas Fest (December 11, 2-8pm) Are you a fan of the Grinch himself? Don your favorite Grinch gear and head over to Grinchfest for phenomenal holiday food, shopping, photos with Santa, and so much more! Let the spirit of the season guide you to Grinchfest!
Winter Wonderland at Travis Park (December 18, 3-9pm) What better way to celebrate the season than with a night of skating, holiday shopping, food, holiday music and more? Head over to Travis Park for this free Winter Wonderland event!
Tis the Season: Travis Park Holiday Events Presented by Centro San Antonio (All Month Long) Centro San Antonio is proud to bring you some of the best holiday events around complete with free holiday movies, live music, food trucks, Santa visits and more. For a complete schedule and information, visit Tis the Season!
Experience Alamo Lights at The Alamo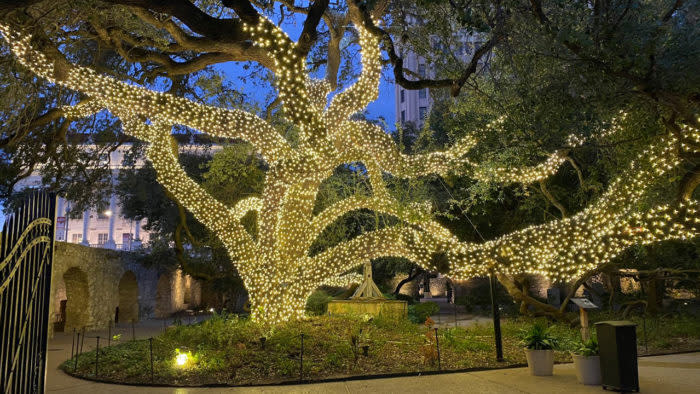 When: November 25, 2022 - January 2, 2023, 6-8pm Where: The Alamo 300 Alamo Plaza San Antonio, TX 78205
Experience Alamo Lights at The Alamo after hours to walk the beautiful Alamo grounds decorated with festive lights throughout that illuminate the gardens, and of course, see the Christmas tree in Alamo Plaza. New this year, in addition to string lights in the majestic live oak, pecan, and other trees in the gardens, experience installations on the grounds such as David Crockett, Juan Seguin riding on horseback, and a few surprises!
Marvel at Lightscape at the San Antonio Botanical Garden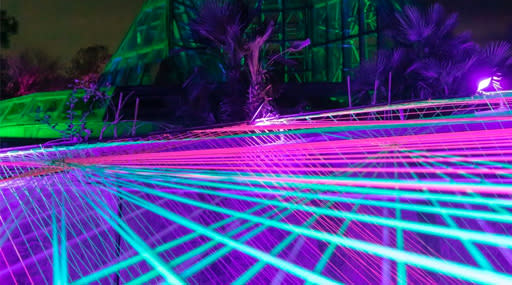 When: Now - January 8, 2023 Where: San Antonio Botanical Garden 555 Funston Pl San Antonio, TX 78209
The San Antonio Botanical Garden captivates guests yet again this holiday season with more than one million lights and festive artistic displays as "Lightscape" returns for its second season. Set to joyful music, the outdoor illuminated 1-mile walking trail will showcase some never before seen in San Antonio artistic installations, seasonal music, and beloved features that wowed audiences in its premiere season. Purchase your tickets ahead of time and be prepared to be amazed!
Find Authentic Mexican Celebrations at Historic Market Square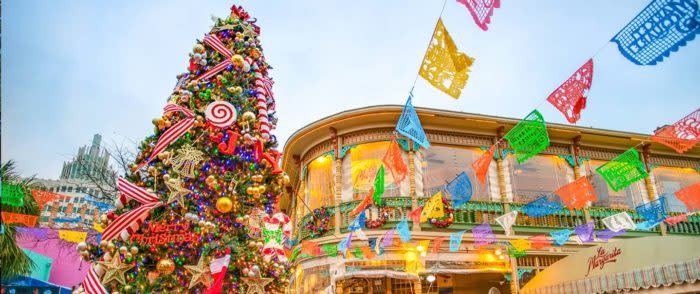 Market Square Holiday Weekends (Weekends in December, 10am-6pm; Closed on Christmas Day) If you have yet to visit the largest Mexican Market in the country, the holidays is a great time to do it. Historic Market Square comes alive on weekends in December with live music, working artists, food booths and more!
La Gran Tamalada (December 10, 10am-6pm) Sure, maybe you know that tamales are delicious, but do you know their history and the traditions surrounding this dish? Find out at La Gran Tamalada and enjoy storytelling, photo ops with Pancho Claus and of course Abuelita hot chocolate!
Holiday Night Markets at Historic Pearl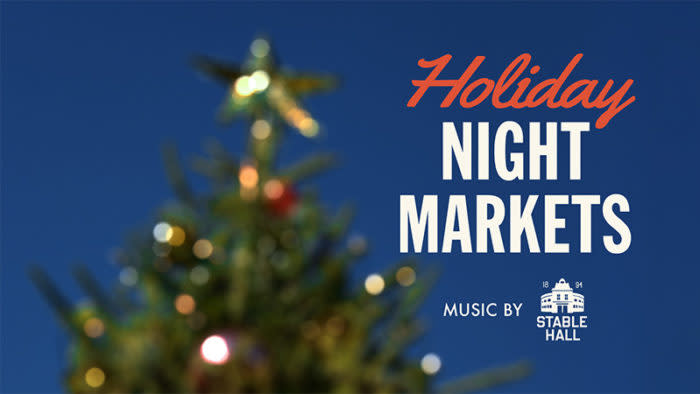 When: Wednesdays, November 30-December 21, 5-9pm Where: Historic Pearl 303 Pearl Pkwy San Antonio, TX 78215
Celebrate the season with the return of Holiday Night Markets at Historic Pearl. Engulf yourself in holiday season festivities featuring festive music and local makers for the best in holiday shopping. Holiday Night Markets take place at Pearl Wednesdays from November 30 - December 21!
Crack up at Las Nuevas Tamaleras at The Carver Community Cultural Center
When: December 8-11, times vary Where: Carver Community Cultural Center 226 N Hackberry San Antonio, TX 78202
Written by Latina playwright Alicia Mena, Las Nuevas Tamaleras has become an annual holiday tradition in San Antonio. Head over to the Carver Community Cultural Center to catch this play featuring three Latinas who are new to the tamale-making process and get a little help from the spirits of two tamaleras.
Join in on their triumphs and learn about holiday culture and tradition at this charming bilingual comedy performance.
Christmas with C.S. Lewis at the Tobin Center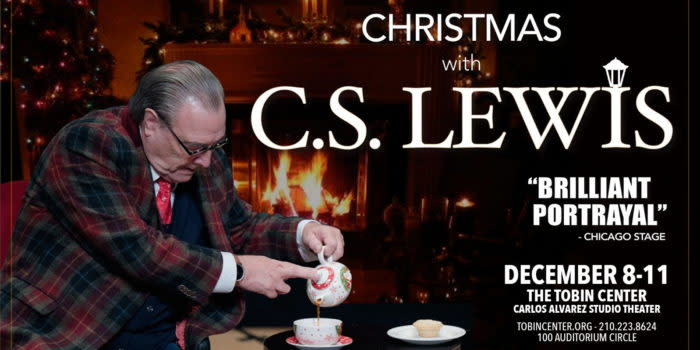 When: December 8-11, 7:30-9pm Where: The Tobin Center for the Performing Arts 100 Auditorium Circle San Antonio, TX 78205
Spend an evening experiencing Christmas with C.S. Lewis at the Tobin Center for the Performing Arts. This stunning yet intimate portrayal showcases a performance of the famed author's musings on the true meaning of Christmas. C.S. Lewis is notable for creating the Chronicles of Narnia series, the beloved book series.
Visit the Tobin center website to purchase tickets or receive more information about this performance.
Hemisfair Holiday in the Garden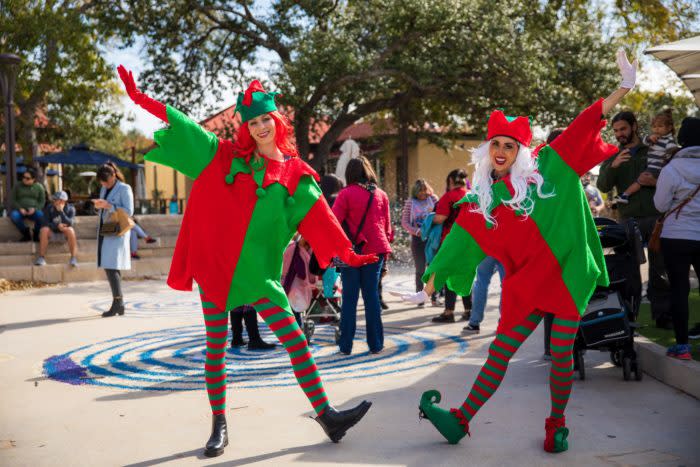 When: December 10, 10a-3p Where: Hemisfair 630 E Nueva St. San Antonio, TX 78205
It's time for another round of family fun at Yanaguana Garden for Hemisfair Holiday in the Garden. Join this merry event where holidays traditions come together and capture the spirit of Christmas, Kwanzaa, and Hanukkah with Santa and his reindeer, holiday crafts, story time, food and beverages, shopping at the Hemisfair Holiday Gift Market, live music and REAL snow.
13th Kwanzaa Market Festival at Our Place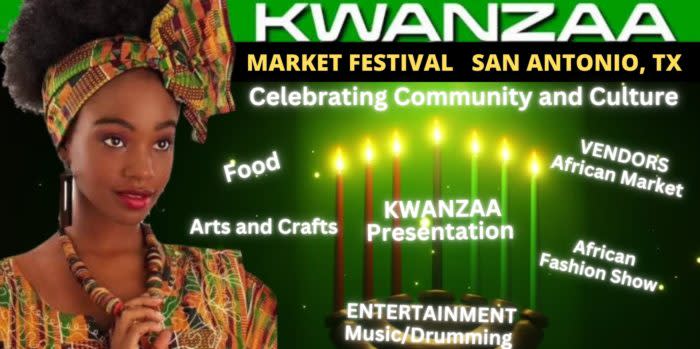 When: December 10, 12-5pm Where: Our Place 3455 Martin Luther King Dr. San Antonio, TX 78220
Support Black-owned businesses and entrepreneurs at the 13th Kwanzaa Market Festival. Kwanzaa is a holiday celebrating African American heritage and lasts from December 26th to January 1st. This is a celebration of family, community, and heritage and leads up to a feast called Karamu.
The Kwanzaa market will include arts and crafts, food, an African fashion show, entertainment, and of course, plenty of vendors ranging from sellers of handmade goods to items for the upcoming Kwanzaa celebration. We celebrate all cultural holidays in San Antonio, so come out and participate in this fun shopping event.
Stroll Historic La Villita for Unique Finds and Experiences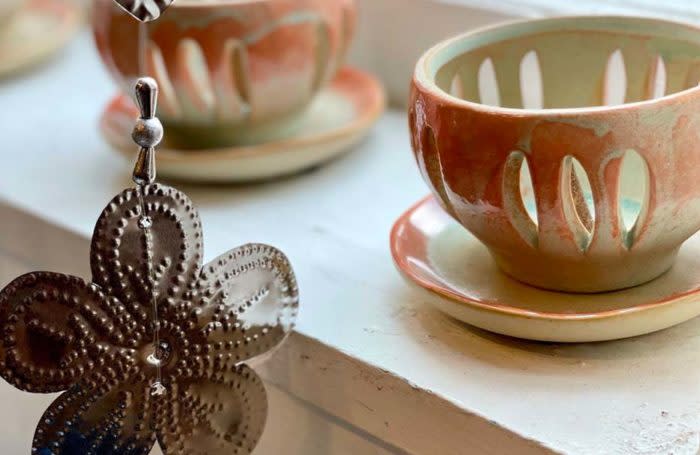 La Villita Holiday Bazar (December 11, 11am-6pm) If unique finds are on your shopping list this holiday season, you're sure to find great gifts at the Holiday Bazar full of hand-crafted art and jewelry created by local artists and artisans.
TubaMeister Christmas Concert (December 17, 12pm) Who doesn't love a good Christmas carol via tubas? The TubaMeisters head to Arneson River Theatre at La Villita for a 2022 Christmas concert on tubas, euphoniums, and baritone horns!
Valero Alamo Bowl Ricos River Rally (December 27, 5-6pm) Take a break from holiday hustle and bustle to get loud at a unique pep rally. Get ready for the Valero Alamo Bowl and cheer on your team - or both teams!
Lambermont Holiday Tea Party
When: December 17th, 10am - 12pm Where: Lambermont Events 950 E. Grayson St, Dona Liston San Antonio, TX 78208
Have a smashing time at the Lambermont Holiday Tea Party. You can expect delicious hot tea and treats. The Lambermont home will also be home for tours for interested parties.
Lambermont is a San Antonio event venue nestled downtown. This historic jewel has unrivaled aesthetics and offers an intimate setting for guests. Purchase tickets online for this special holiday event.
Enjoy Breakfast with Mr & Mrs. Claus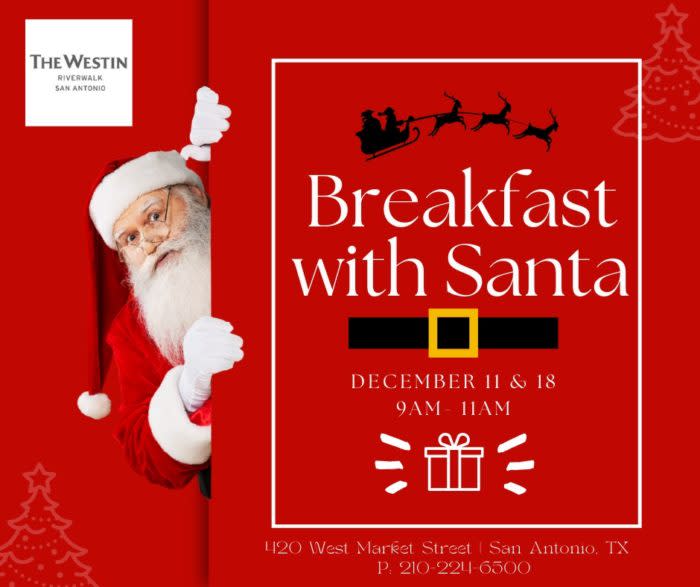 When: December 17, 9-11a Where: The Westin Riverwalk 420 W Market St San Antonio, TX 78205
Get in your final Santa requests over a delicious breakfast at The Westin Riverwalk, San Antonio's Breakfast with Santa and Mrs.Claus! Indulge in a festive feast and enjoy holiday music, mimosas and spiked coffee for the adults, photos with Santa, story time, coloring, face painting and letters to Santa making wonderful holiday memories that will last a lifetime.
A Magical Cirque Christmas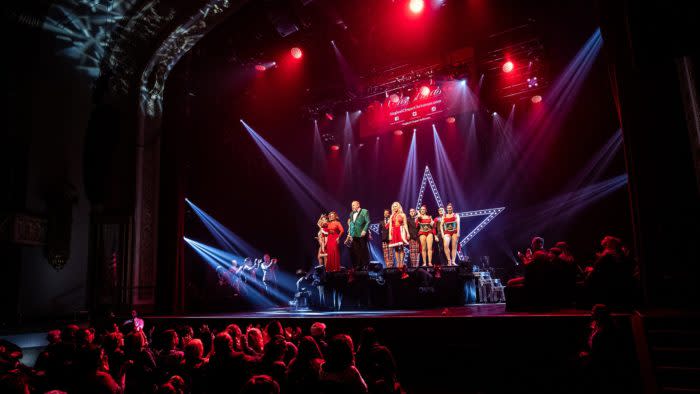 When: December 27th, 5-8pm Where: Majestic Theatre 224 E Houston San Antonio, TX 78205
The world's greatest entertainers unite for a spellbinding and incredible holiday production – A MAGICAL CIRQUE CHRISTMAS at the iconic Majestic Theatre! Experience the enchantment of Christmas as Magical Hostess Lucy Darling takes you through an evening of dazzling performers and breathtaking cirque artists, accompanied by your favorite holiday music performed live. Get into the spirit of the season with this merry treat that's perfect for the entire family.
Trans-Siberian Orchestra at The AT&T Center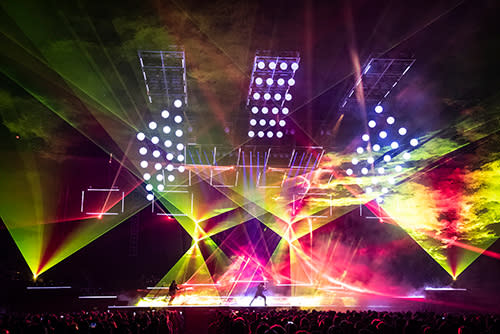 When: December 30th, 3-5 pm Where: 1 AT&T Center Parkway San Antonio, TX 782019
End your December with a jam-packed evening with the Trans-Siberian Orchestra at the AT&T Center. This multiplatinum group will showcase their newest winter tour, "The Ghosts of Christmas Eve – The Best of TSO & More." It is sure to be a holiday celebration that bridges rock and instrumental in a stellar performance.
Head to the website to purchase your tickets for what is sure to be an unforgettable show.
Celebrate the Holiday Season all month long at our Theme Parks, Attractions and Zoo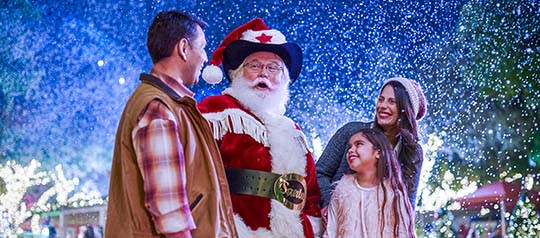 SeaWorld Christmas Celebration (Select dates November 10, 2022 - January 2, 2023) SeaWorld San Antonio is decking out the halls for the BIGGEST Christmas celebration in Texas, an extraordinary holiday event. This wintry wonderland features Christmas shows, festive foods, Santa Claus, the largest Christmas light display in Texas and so much more!
Zoo Lights at the San Antonio Zoo (November 12, 2022 - January 1, 2023) When the animals tuck in for the evening, San Antonio Zoo transforms into a wild, winter wonderland filled with a jaw-dropping array of twinkling lights. Bigger and brighter than before, Zoo Lights is a must-see for families and is sure to put everyone in the holiday spirit!
Holiday in the Park at Six Flags Fiesta Texas (Select dates November 19, 2022 - January 1, 2023) Holiday enchantment for the whole family can be found at Six Flags Fiesta Texas this winter season. Enjoy more than a million glittering lights, festive décor, seasonal foods, holiday entertainment, and thrilling rides at Holiday in the Park at Six Flags Fiesta Texas.
A Wonderland Christmas at Morgan's Wonderland (Most Weekend November 25-December 23) It's a winter wonderland at Morgan's Wonderland, San Antonio's ultra-accessible theme park that is fun for everyone. During select weekends, visitors will experience holiday shows, Christmas light parades, photos with Santa and more! Be sure to check the Morgan's Wonderland website for complete operating hours.
Christmas at the Caverns at Natural Bridge Caverns (Select dates December 3-23) Hear your favorite carols echo throughout Texas' largest underground cavern at Natural Bridge Caverns this holiday season. Visit Santa "Spelunker" Claus, join Mrs. Claus for story time, and then round up his reindeer in our 5000 sq. ft. outdoor maze and more!
Catch a Showing of The Nutcracker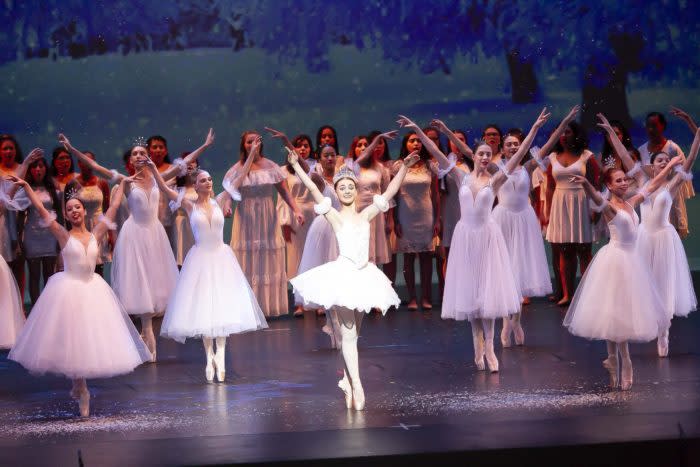 Ballet San Antonio: The Nutcracker at the Tobin Center for the Performing Arts (December 2-11) Ballet San Antonio's The Nutcracker features a children's cast of over 100 children, community heroes in the role of Mother Ginger, and is a magical holiday tradition for the community of San Antonio and their families!
The Nutcracker at Lila Cockrell Theatre (December 9-10) Come out on December 9th and see The Children's Nutcracker, performed by the Children's Ballet of San Antonio and spearheaded by Art Director Vanessa Bessler, with help from local choreographers and master teachers from around the globe.
Nutcracker! Magic of Christmas Ballet at the Majestic Theatre (December 29) Gather friends and family to re-live your fondest childhood dreams, overflowing with larger-than-life puppets, breath-taking acrobatics and dazzling costumes. Experience the exquisite artistry of the international cast, featuring stars of Ukraine ballet, performing at the highest level of classical technique.
The Immersive Nutcracker at ArtSpace San Antonio (Select days throughout December) You haven't seen The Nutcracker quite like this. The Nutcracker comes to life in a completely immersive experience at The Immersive Nutcracker. Become enchanted with this timeless holiday tale with incredible music and find yourself in awe of this holiday wonder.
Drift Under the Holiday Lights on a River Barge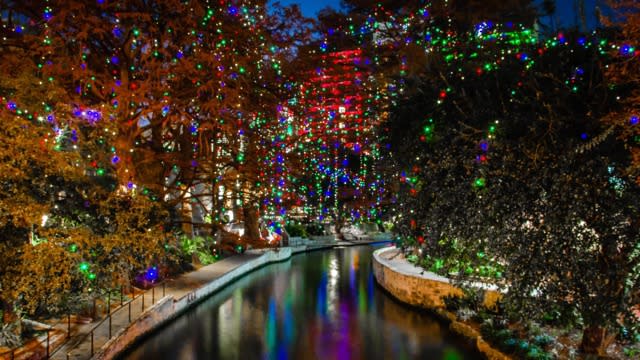 Go Rio Downtown Lights Cruises! (November 28-December 22, 6:30-9:30pm) Enjoy holiday music while you cruise through the main loop of the river downtown through restaurant Row and Rivercenter mall. Board at Ambler Kitchen + Cocktails, where complimentary hot chocolate will be served plus a pop-up bar with additional food and beverage for purchase. The one-hour cruise departs daily at the main channel from 6:30pm – 9:30pm
Black History Holiday Lights River Boat Tour (December 10, 4-6pm) Join San Antonio African American Community Archive and Museum (SAAACAM) for 100 minutes of Black History on the beautiful San Antonio River Walk. Learn about history and take a mental journey through time surrounded by thousands of holiday lights and sights.
For the Adults: Get in the Holiday Spirit with Spirits at a Pop-Up Bar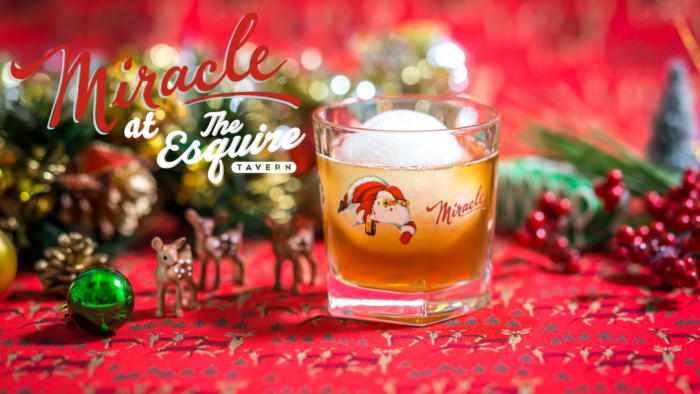 Miracle at the Esquire Tavern Bar (November 21 - December 31) Head to the Esquire Tavern on San Antonio River Walk, home to the longest wooden bar top in Texas, for Miracle Pop Up where the bar will transform into a holiday wonderland while they serve holiday-themed craft cocktails.
SNOWBOUND: A Merry Ski Lodge Holiday Pop-Up Bar at Chicken N Pickle (November 11-December 31) Make your reservations now for a holiday-themed pop-up at Chicken N Pickle complete with small bites, festive cocktails and loads of fun!
Close out the Year with Celebrate SA!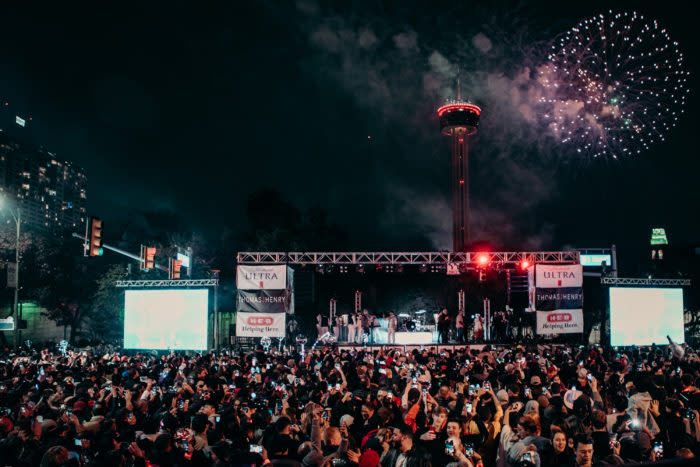 When: December 31, 2022, 6pm to midnight Where: Downtown San Antonio
Say farewell to 2022 with an exciting night in downtown San Antonio at Celebrate SA! Make some noise at this free event full of live music, fun, and of course - a fireworks show counting down to a fantastic 2023.
Spend Your Holidays in San Antonio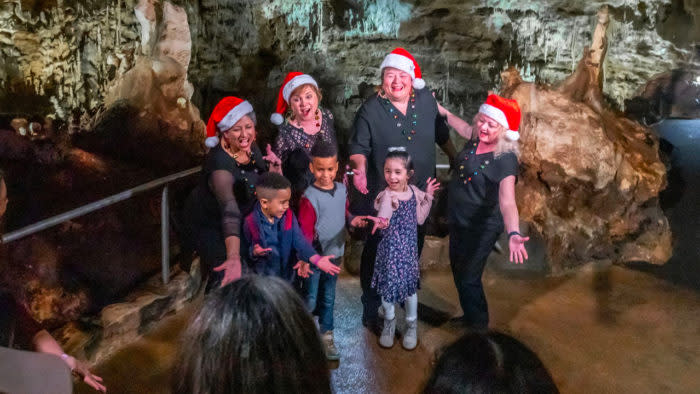 If you want a merry and bright holiday season, consider San Antonio your go-to destination. Not only is San Antonio decked out with a dazzling display of lights across the city, but there is no shortage of holiday events that will bring you joy this holiday season.